Description
Quantitative ketone breath meter CDPKT003
Type of measurement: Quantitative with digital reading.
Sensitivity: High.
Measuring ketosis is one of the biggest difficulties of the ketogenic diet.
Ketosis is a metabolic process that occurs when the body starts burning fat for energy by not having enough carbohydrates to burn. During this process, the liver produces chemicals called ketones.
The CDP KT003 quantitative ketone breath meter is ideal for everyone looking for a fast, easy, and reliable way to check their ketosis level.
This digital meter is designed to accurately measure your ketone level.
Measures ketosis just by blowing into the device.
Works with a single button, this makes the device very easy to use.
The test result is indicated on the screen with one of its three LED lights.
The ketone meter comes with 10 spare mouthpieces so that the tests are hygienic, and the device can be used by several people.
Main features:
✔️ High precision – At a maximum measuring range of 0.0-99 PPM.  Much more accurate method than ketone strip testing.
✔️ Fast and easy to use – With a 10-second  exhaled air  sample  you can see the results.
✔️ Compact and portable – A simple method to analyze ketone concentration without having to prick your finger or handle biological samples.
✔️ Results report – You can save up to 32 records and track progress.
In 2020 the first breath ketone meters appeared. These have several advantages over measurement in blood.
The main advantages are:
No finger pricking required.
Many measurements can be carried out.
No need to buy measuring strips.
How to Use the Ketone Breath Meter:
Breath ketone  meters require a deep breath sample of about 10 seconds. The correct technique is to breathe normally, inhaling in time to start a long, slow, controlled breathe for a full 10 seconds.
Limitations:
In general, acetone is a good indicator for measuring ketosis, but there are two limitations:
Acetone is not 100% specific and there is an error of +/- 15%.
The ketone breath meter sensor can detect multiple chemicals in the air and interpret them as acetone.  Among these substances is alcohol.  If there is any alcohol residue in the mouth or breath, the ketone meter will provide results that might be too high or off the scale (E-01).  For this reason, it is imperative to not drink alcohol before performing a ketone breath meter test.  Other compounds that can confuse the meter are volatile esters.  In general,  these come from perfumes or deodorants, household cleaners or  kitchen odors . To obtain accurate and consistent results these should be avoided.
Measuring ketosis:
The time it takes to enter ketosis depends on how adapted the body is to metabolizing  fats.
If it is the first time that the diet is followed, the  adaptation period will last about 15 days, with the first week being the most intense.
During this period, we recommend checking the ketone level on a regular basis (every morning).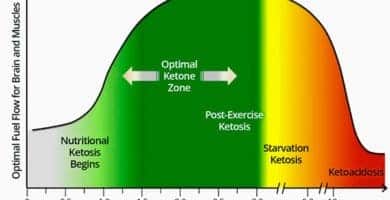 Technical specifications Quantitative ketone breath meter CDPKT003: 
Product Name: Quantitative Ketone Breath Meter
Model: CDP-KT003
Material: ABS
Sensor: Semiconductor
Dimension: 1 * 2.8 in
Power supply: 2 x 1.5V AAA batteries (not included)
Color: Black, White
Heating time: 20 seconds
Response time: 5 seconds
Detection range: 0,0-99 PPM
Certificate: FDA, CE, RoHS, FCC
Memory registers: 32 records