Description
CDPK3-Pro Contactless fixed installation thermometer with data download to PC
CE Certification for all types of business or public places.
Descripción del producto
Temperature scanner:  Wall mounted or tripod-mounted temperature scanner, non-contact k3 PRO infrared thermometer.
Fast & Accurate Reading: Advanced infrared temperature measurement technology, can quickly measure temperature and display measurement result in 1 second with an accuracy of ± 0.1 °C.
Adventages
Non-contact temperature scanner, no need to use hands, thus avoiding cross infections.
Can be hung or secured using a fixed tripod.
Advanced infrared technology for temperature measurement.
Fast and accurate reading: new chip, faster detection time (0.1 s); the control rate per minute is greatly improved (50 people /min). Accuracy of ± 0.2 °C.
Warning light if detection fails.
Warning light for abnormal temperature.
You can connect it to a USB power supply or use it with a lithium battery.
Real-time data can be recorded and records can be exported to a PC.
HD LCD display to show results.
For use in offices, supermarkets, shops, shopping malls, cinemas, medical offices, hospitals, hairdressers, schools, sports centers, entrances, etc.
PC connectivity, free software included.
Any object emits infrared radiation energy and its surface temperature directly determines the radiation energy and wavelength. Based on this principle, this product incorporates a high precision infrared sensor specially used to detect the infrared radiation energy emitted by the human body with a wavelength of 5 – 14um. It accurately measures body temperature through accurate calculations and various compensations and corrections.
This product measures body temperature by collecting the infrared signature on the forehead. Its use is very simple, respecting the current health and social separation measures. Fast and accurate measurement. Measures a temperature simply by standing in front of the device. Its functionality and level of effectiveness makes its ideal almost anywhere (offices, supermarkets, shops, shopping centers, cinemas, medical offices, hospitals, hairdressers, entrances, schools, sports centers, etc.)
Application range: Body temperature is shown by measuring the thermal radiation of the forehead.
Contraindications: none.
Características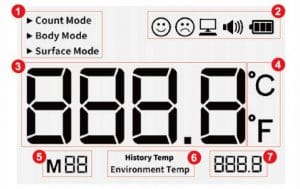 How it works: count mode, body mode, surface mode.
Status indicator: expression, USB connection status, volume, power.
Measurement result: temperature status or count status.
Temperature unit: Celsius or Fahrenheit.
Configuration element or historical record: M** indicates the historical registration number. F* indicates the configuration item number.
History temperature or Environment temperature.
Environment temperature status.
Technical features CDPK3-Pro Contactless fixed installation thermometer with data download to PC
Accuracy: ± 0.2 degrees (34 º ~ 45 º), (place it in the operating environment 30 minutes before use).
Alarm feature: automatic alarm for abnormal temperature, flash + sound alarm for about 10 seconds.
Automatic measurement: measuring distance 5 cm ~ 10 cm
Screen: Digital screen
Adaptable power supply: 4 AA batteries (external power supply and internal power supply can be changed).
Installation method: screws, double-sided adhesive, tripod support.
Environment temperature: 10 º ~ 40 º(Recommended 15 º ~ 35 º)
Infrared measurement range: 0 ~ 50 º
Response time:5 s
Standby: Automatic 30-second standby during non-working hours.
Input: DC 5V 500mA
Weight: 303 g
Dimensions: 170X115X140 mm
Counting capacity: 9999 times