Description
The LifeSafer L-250 ignition interlock breathalyzer is an advanced device for drivers that immobilizes a vehicle if the breathalyzer test is positive. Optionally, to prevent tampering, it can include a driver facial recognition function.
The equipment was developed and manufactured by the prestigious American company LifeSafer.  LifeSafer offers more than 30 years of experience in this field and has carried out tens of thousands of installations worldwide.  Its extensive experience  and  the exceptional valuation of the service and use by its users, has made LifeSafer a leading company in the US market.
The LifeSafer L-250 ignition interlock breathalyzer is a secure investment that guarantees a faultless long-term operation. In addition, it offers permanent and professional after-sales service provided by qualified personnel accredited by the brand according to strict quality standards.
We have a wide network of installers, trained on LifeSafer protocols, in all provinces of the Iberian Peninsula, with the fastest installation times in the market.
This ignition interlock breathalyzer will allow you to implement a planned driver breathalyzer control strategy. It can be used both professionally (in private vehicles or fleets) and in a home environment.
Approved in Europe.
Complies with certification EN 50436 Alcohol Ignition Interlock.
Also approved by the US NHTSA agency.
Made in the USA with the highest quality standards: ISO 9001:2015 Certified.
With biometric camera feature option for enhanced security.
Industrial CPU to ensure device stability and performance.
LifeSafer is a leader in the U.S. market with more than 30 years of experience in this field and more than 1.5 million installations worldwide.
ISO 9001:2015 Certified Manufacturer.
All our breathalyzers are supplied with calibration certificate with ENAC traceability recognized by the Ministry of Industry.



The LifeSafer L-250 ignition interlock breathalyzer is an advanced and modern unit with a simple and intuitive operation. It is probably the smallest ignition interlock breathalyzer in the market. In addition, it can be installed in all types of vehicles: cars, vans, commercial vehicles, buses and trucks.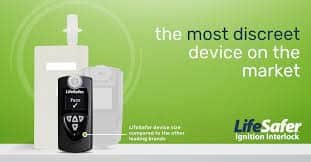 It's simple to get started
We understand that an ignition interlock breathalyzer implementation program can be confusing for users. It's our job to make the installation as simple as possible.
Step by step support
LifeSafer customers have our support throughout the process.
Easy to remain compliant
Higher compliance comes from a combination of:
30 years of implementation experience in the US and Europe.
High-quality device with reliable and accurate results for hassle-free use.
Valid for all types of vehicles.
Customer-focused (you'll always talk to a real person, get appointment reminders, and more).
About us
LifeSafer is an American company leader in the alcohol control industry. With more than 30 years of experience, it has successfully helped numerous individuals and businesses complete alcohol abuse prevention programs and measures.
LifeSafer offers better service than any other provider. From exceptional customer service, to a complete and efficient analysis with information for all customers. We focus on quality care to ensure unmatched support and a successful implementation.