Description
Alcolock breathalyzer for fleets Alcovisor X8
The Alcovisor X8 system is an advanced breathalyzer device for driver control that includes facial recognition capability and a complete control platform for fleet management. It will allow implementing a planned alcohol control strategy in drivers even remotely, and you can immobilize the vehicle with the alcolock system.
ES Alcovisor X8 alcolock system is approved and has the EN 50436 Alcohol Ignition Interlock certification
U.S. DOT certified
Real-time fleet monitoring
Android operating system for easy tailoring of the APK for custom projects
Biometric function to improve security
Industrial CPU to ensure device stability and pressure
This new system will be mandatory from July 6, 2022 for professional passenger and freight transport drivers (see News:https://www.larazon.es/sociedad/20211013/ymfzmygm5rf5doirslzy2hjlaa.html)
With the highest quality standards:



The purpose of the breathalyzer with interlock-alcolock system is to improve traffic safety and avoid drunk driving accidents, implementing a control system that can be remotely planned and controlled by a manager.
When the device is online, users connected to the platform can be curled in real time from the digital cloud platform.
The set is compact and with a minimal installation in the vehicle, covering all needs.
Main features
Wireless: Breathalyzer and camera with wireless facial recognition
Equipped with GPS and 4G module in both the breathalyzer and the main board
Update photos and events in real time
Interlock/alcolock system for real-time vehicle immobilization
Monitoring and control from remote sites
Direct connectivity with ODB II port
Possibility to interact on the platform by video chat
Driver facial recognition to prevent identity fraud
GPS tracking of the vehicle with geolocation of the tests
Geolocation of the driver and the tests performed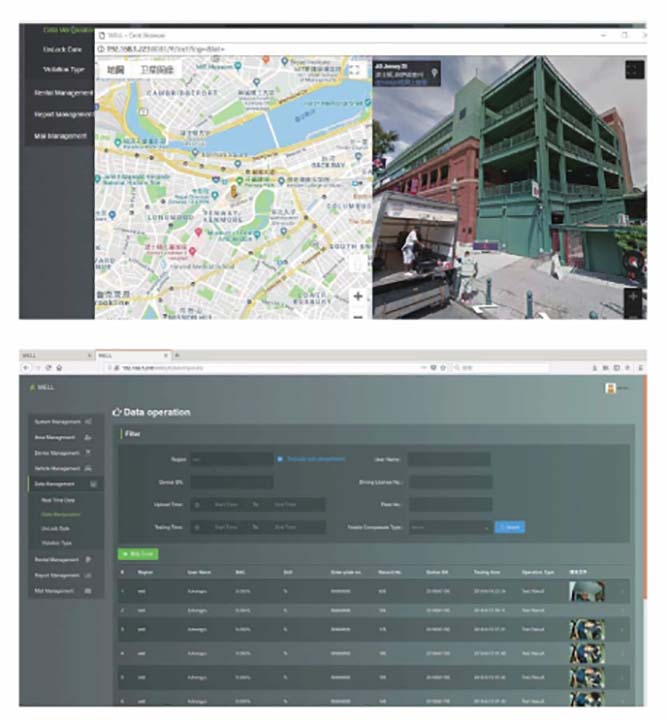 Powerful management platform that allows remote administration, receiving alerts in real time, immobilizing the vehicle, geolocating it, and interacting with the user.
Simple and fast operation, implementable in all types of vehicles both industrial and commercial.
Image recognition to prevent identity fraud.
Technical features
Sensor: Electrochemical type sensor
Operating temperature: -45 °C to 85 °C
Display: Color display
Calibration interval: 12 months
Power supply: 12 V – 24 V
Switch Relay: <16 A continuous, <40 A peak, output relay can change up to 48 V
Data transfer: WiFi, Bluetooth, 4G
Certifications: EN50436, US DOT
Camera for facial recognition: 5 MP
Connection: Wireless with phone and logger