Description
Blow & Go CDP 4500 Coin Breathalyzer with certified sensor
The Blow & Go CDP 4500 coin breathalyzers, for high-turnover businesses, incorporate exclusive technological solutions. These breathalyzers have been designed based on an experience of more than 15 years and a fleet of more than 15,000 units installed throughout Europe and America.  Our Blow & Go breathalyzers have also been selected and approved as unique devices by the prestigious world association of nightlife venues International Nightlife Association (INA), with international headquarters in Barcelona
Our vending breathalyzers incorporate the most advanced technology and have a modular structure that makes each of its components, especially the alcohol sensor, interchangeable or replaceable and independent of the rest of the system. This makes it possible to significantly reduce the maintenance of the device, without having to stop its operation at any time for calibration or maintenance services. In addition, it has been equipped with a replaceable state-of-the-art electrochemical sensor, similar to those used by the police, which allows great reliability and minimal maintenance.
All of our equipment is supplied with official calibration certificate with ENAC traceability issued by the prestigious quality control firm SGS, which certifies optimal reliability of the equipment during its operation.
The Blow & Go CDP 4500 coin breathalyzer is very strong thanks to its compact metal casing. In addition, it should be noted that the design adapts to any establishment, highlighting its easy reading and use.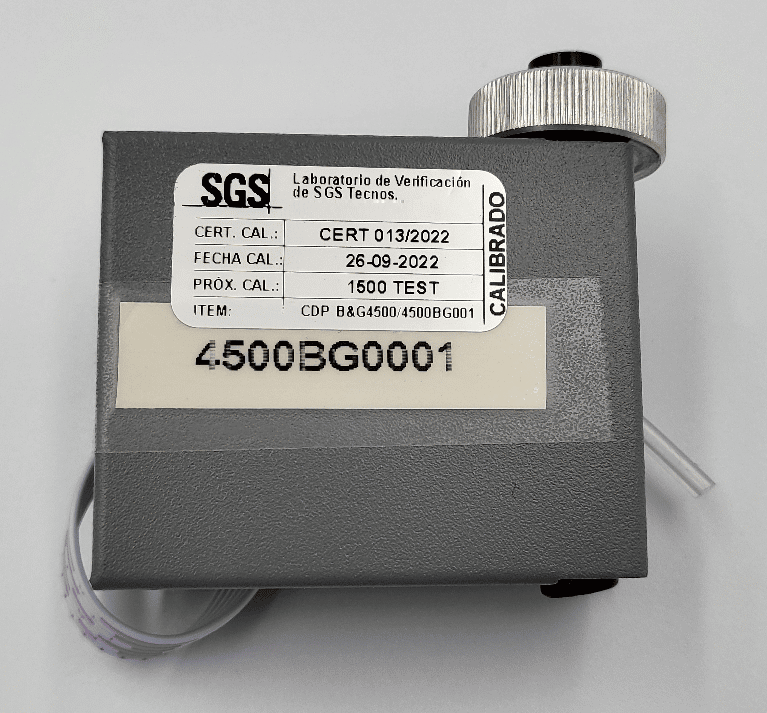 With the highest quality standards:

Main characteristics:
Coin breathalyzer equipped with exclusive electrochemical and recalibrateable and/or replaceable sensor module.
Specially designed for public places and the hospitality sector:

Restaurants
Party rooms
Pubs and clubs
Parkings
Hotels
Wineries

Its location is also ideal in:

Casinos
Pharmacies
Red Cross guard posts
Gas stations
City councils

Made with very compact and resistant metal casing.
Maximum measurement accuracy thanks to its electrochemical sensor.
Very intuitive and easy to use.
With written messages and graphic icons that light up to guide the user as they perform the test.
While it remains on, the screen lights up intermittently to capture the attention of potential users.
Easy wall installation system.
It incorporates a coin box for 50 cents or 1-euro coins, as needed.
The deposit capacity is more than 300 coins.
The tests are performed by blowing through straws (standard cylindrical soda straws available in any supermarket).
It has international approval for Europe and the USA.
Product marketed exclusively by CDP, subjected to rigorous verification tests before sale.
Technical specifications:
Sensor type: State-of-the-art electrochemical. ENAC Calibration Certificate
Recommended calibration periods: from 1200 to 1500 tests
Range of measurements: 0.00 – 2.00 mg/L BrAC. (0,00 – 4,00 g/L)
Analysis time: 3-10 sec. High turnover
Data format: Mg/L (BrAC), g/L (Promile) and % BAC.
Accuracy: +/- 0.005%BAC.
Power: AC 110 ~ 220, 50/60 HZ
Number of coins required to activate the test: 0 to 15
Coin diameter: 20mm – 28mm
Thickness of coins: 1.2mm – 2.5mm
Coin deposit capacity: approx. 200 units
Straw deposit capacity: 200pcs Aprox. = 7mm
Weight: 8.0
Dimensions: (mm) 250×105×400
Note:
CDP has its own breathalyzer laboratory to offer technical support and qualified after-sales, which is essential in the commercialization of measuring equipment that requires periodic maintenance. With more than 20 years of experience, we are one of the top businesses in Europe in this field. We offer certified calibrations, replacement of parts, certificates that can be especially important in sanitary use.
Read News: Salvaterra instala el primer alcoholímetro en un vial de Galicia