Description
Coronavirus Test Kit COVID-19 antibody IgG IgM – Pack 25 and 40 test
SafeCare Biotech has developed one of the first immunoassays for the diagnosis of COVI-19 infection.
The test has been widely used by the Chinese CDC to detect infections and is now available in other parts of the world after cases have been detected outside China.
This test detects both the early marker and the late marker, IgM/IgG antibodies in whole blood samples or simply with a finger prick like glucose tests.
Can be used in symptomatic or asymptomatic patients.
Features and benefits of Coronavirus Test Kit COVID-19 antibody IgG IgM – Pack 25 and 40 test
SafeCare Biotech's Rapid IgM-IgG Combined Antibody Test is used to qualitatively detect igG and IgM antibodies from the new coronavirus in the blood or human plasma in vitro.
Requires
Works with whole blood or plasma.
Detects IgM and IgG antibodies
Validated using PCR
Fast
15 minutes per test
Intuitive visual interptretation.
No special equipment needed
No sample transport needed, may be performed in situ by healthcare professionals.
Applications of Coronavirus Test Kit COVID-19 antibody IgG IgM – Pack 25 and 40 test
General population screening
Allows rapid examination and diagnosis
Designed for healthcare professionals: Hospitals, medical, pharmacies, offices, laboratories.
Can detect carriers that are asymptomatic
It can determine whether the patient was recently affected by the virus, even if the virus is no longer present
According to the SEIMC Group of experts for the analysis of the microbiological diagnosis of COVID-19, the main applications of antibody detection during COVID-19 would be:
Patients who go to the emergency room with more than five days from the onset of symptoms.
In cases with repeatedly negative PCR where symptoms have clearly started several days before. That is, to confirm an infection when there is a suspicion of a false PCR negative.
Detection of antibodies in health care personnel that would help identify those who are already immune (igGs presence) and can return to work to care for infected patients minimizing the risk of virus spread to colleagues and other patients.
To understand the epidemiology of COVID-19, it also allows to know the role that asymptomatic infections could have played.
Define previous exposure and identify highly reactive human donors for hyperimmune serum generation as a therapeutic approach.
For research work (such as possible plasma clinical trials of immunized patients.)
For vaccine evaluation.
How to use depending on whether you use blood or plasma

Result interpretation


A total of three detection lines are possible, the control line (C) appears when the sample is correct.
1 | IgG and IgM Positive: The colored line in the control line region (C) appears and two colored lines should appear in test line regions G and M (G and M). The color intensities of the lines do not have to match. The result is positive for IgG & IgM antibodies and is indicative of secondary COVID-19 infection.
2 | IgG Positive: The colored line in the control line region (C) appears and a colored line appears in test line region G (G). The result is positive for COVID-19 specific-IgG and is probably indicative of secondary COVID-19 infection.
3 | IgM Positive: The colored line in the control line region (C) appears and a colored line appears in test line region M (M). The result is positive for COVID-19 virus specific-IgM antibodies and is indicative of primary COVID-19 infection.
4 | Negative result: If only the quality control line (C) appears and the IgG and IgM detection lines are not visible, then a new coronavirus antibody has not been detected and the result is negative.
Changes in Antibodies Levels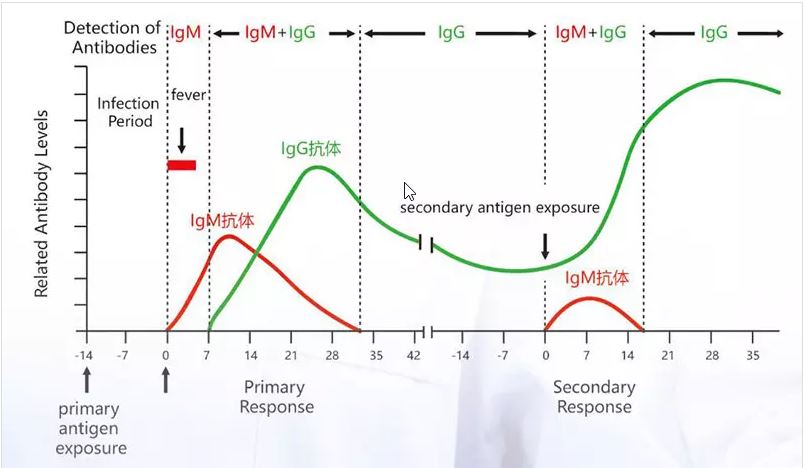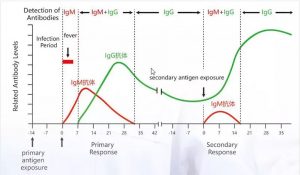 IgM appears first after infection with the virus and then IgG in the middle and late stages of infection
IgM/IgG antibody test can determine if a patient is infected "recently 2019-nCoV"
It is widely known that IgM provides the first line of defense during viral infections, followed by adaption generation, high IgG affinity response for long-term immunity and immune memory.
Therefore, the test of COVID-19 IgM and IgG antibodies is an effective method for rapid diagnosis of COVID-19 infection.
In addition, detection of IgM antibodies against COVID-19 tends to indicate recent exposure to COVID-19, while detection of COVID-19 IgG antibodies indicates a later stage of infection. Thus, this combined antibody test could also provide information on the stage of infection
About the Company
Safecare Biotech(Hangzhou)Co. Ltd. is a premier and professional manufacturer and exporter of rapid diagnostic test kit with 165 workers, 8000 ㎡ non-dust workshop, a professional R&D team with 15 years of experience in the rapid test field, advanced automated machines and professional R&D team ensuring high quality, speedy deliveries and a large production capacity. SAFECARE earned the reputation as a premium brand known for exceptional quality, consistency and innovation.
Product range include drug abuse and alcohol tests in urine and saliva, Food Safety test, Women Health test, Infectious Diseases test, Cardiac Markers test, and Tumor Markers test.
The rapid test kits available are mostly used in laboratories, rehabilitation centers, treatment centers, hospitals, clinics, private practices, human resource departments and the judicial system.
KIT CONTENTS
Individually packaged test units X the number of kit tests: 40
Disposable pipettes X the number of kit tests: 40
Buffer (two container with sufficient content for Kit units: 40)
Instructions guide