Description
Saliva drug test CDP-Safecare-7. Multidrug.
With  the CDP-Safecare-7 Multidrug Saliva Test  you can easily and quickly check if a person has consumed any drug in the last hours.
It is multidrug test:
Allows you to analyze the 7  most common types of drugs.
In addition, it detects substances up to 10-12 hours after consumption.
Accurate results are obtained in less than 10 minutes.
Performing the test manually is very simple. Simply insert the swab into your mouth to collect a saliva sample and then place it on the cartridge. Thanks to the solution it contains and its reaction, it will show in a few minutes (through a legend) whether the test is positive or negative for all types of drugs.
Ideal  for rapid visual reading diagnostics in detoxification centers, health services, for controls carried out by police, for personal use, etc. You only have to wait a few minutes to read the results visually. The process is very intuitive and easy to perform by anyone.
Saliva tests can detect the presence of drugs almost immediately after consumption and even after up to 4 days.
Thanks to its rapid detection capacity, this type of test is very useful when performing drug controls. They are easier to perform than other tests on the market and saliva samples can be collected virtually anywhere.
How they work and what are the detection times:
How the saliva test works
Saliva tests are ideal for the efficient detection of narcotics or to know if a person is under the influence of any substance. Among the main advantages, we have its high capacity to detect a wide variety of drugs in a period of 1 to 4 days.
The saliva test measures the psychoactive element of the drug. In this way, the detection of the substance will also indicate its presence in blood. Detection times and duration depend on several factors. For example, a regular user will be more likely to test positive. This is because the duration of the drug in saliva is also longer.
Time of drug detection in saliva
For a person who is not a habitual consumer, detection times may also vary. Metabolic rate, body mass, age, dose consumed, etc. are some of the variables that could influence the result. In the case of a more active person, the detection time will not be as long compared to someone who is overweight or has higher body fat.
Cannabis
Cannabis can be detected in as little as 1 hour and, although its effects usually last only a few hours, its presence in saliva does not disappear until after a minimum of 3 or 4 days.
Cocaine
Another of the drugs that shows up faster in saliva tests is cocaine, since it can be detected in just 5 or 10 minutes after consumption and does not disappear until after 24 hours.
Opiates
Opiates can be detected in about 1 hour after consumption, and usually last between 7 and 21 hours in saliva.
Amphetamine and methamphetamine
Like cocaine, amphetamine and methamphetamine can also be detected immediately after use, between 5 and 10 minutes. In addition, its presence can last up to 72 hours.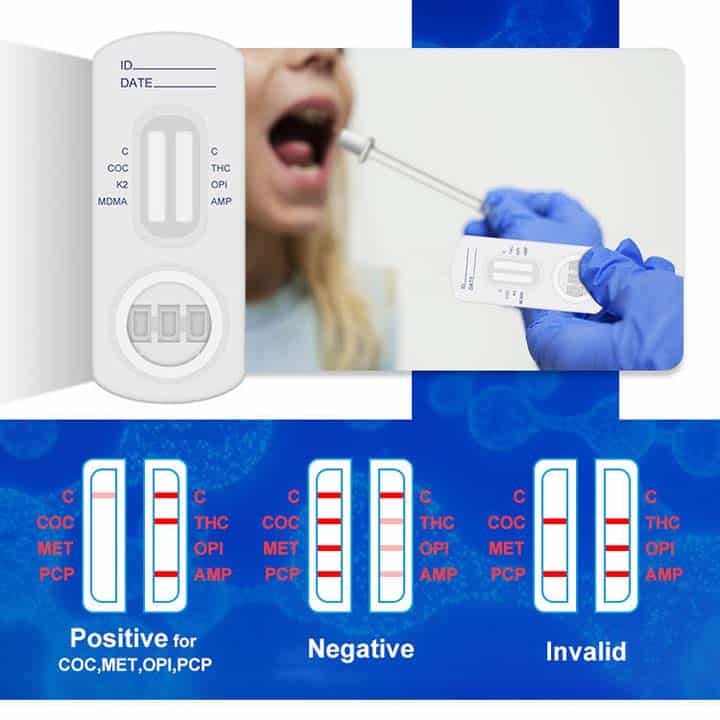 General characteristics:
Includes legend, so the results can be identified visually.
The process is very intuitive and easy to perform.
The saliva sample is collected by means of the swab. This contains a physical saturation indicator that shows the necessary amount of saliva to perform the test.
Hygienic and non-invasive use, without the need to use protective gloves.
TUV Quality and CE certification.
Standard format available in STOCK:

A: THC 50 / OPI 40 / AMP 50
B: COC 20 / MET 50/ BZO 10
C: MTD 30
Easy to use in 4 easy steps: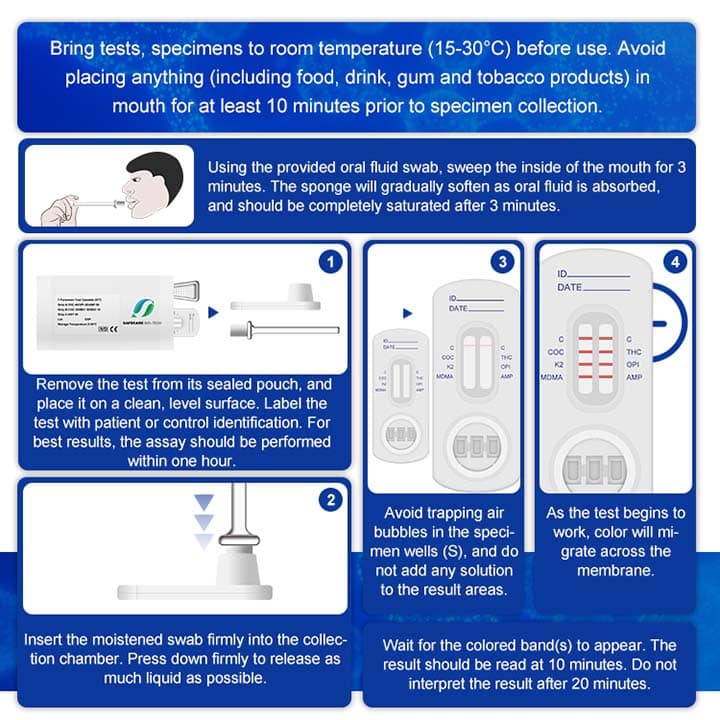 Includes:
1 Cassette with legend.
1 Swab for sample collection.