Description
Professional drug Analyzer CDP WDTP-10
With the portable ADR-WDTP10 drug analyzer you can automatically process saliva samples in a portable format with great autonomy, allowing more than 600 tests without printing or 400 with the printing option.
It integrates a printer that allows you to obtain a ticket with the test results, date, time, etc. serving as evidential proof. It is also equipped with a GPS module to geolocate all the tests, and data connectivity via Wi-Fi and 4G.
Drug detection is fast, reliable, and intuitive using this device. The unit is equipped with OCR digital recognition technology and touch screen on a solid Linux type environment with memory that allows you to store up to 100,000 records.
The turnaround time for test results is less than 5 minutes.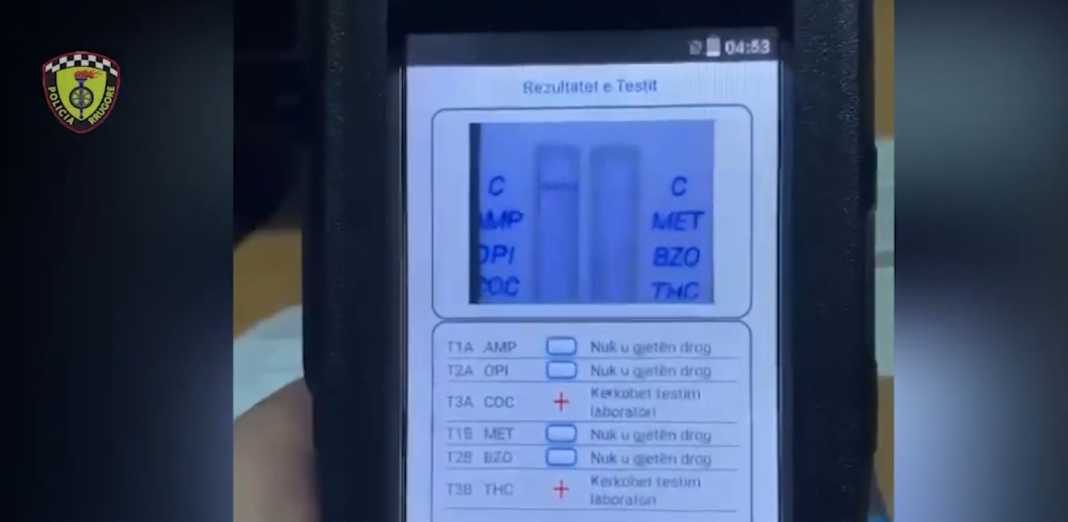 Featured characteristics:
Built-in printer integrated in the same device.
Touchscreen data entry.
Long battery life: 600 tests without printing and 440 times with printing.
High memory capacity: Up to 100,000 records with all data and images from the Test/cassettes.
Wi-Fi and 4G connection (optional) for software update and data transfer to the backend management software (the client can develop IT later using our protocol).
No need for periodic calibrations.
With built-in GPS tracking module.
QR code scanner (you can scan the QR code of the cassette, as well as the QR code of the driver's license, personnel cards, etc.).
With Internal camera, the photo of the cassettes can be saved with the records for traceability.
Adjustment of test temperature range according to the requirement of different cassettes.
Up to 25 data entry fields can be configured in advanced settings.
The analyzer kit is supplied in a complete carrycase with an additional synthetic leather holder to transport it safely:
Main characteristics:
Manageable format for long-lasting portable use
Built on very stable Linux operating system
Intuitive use touch screen
Storage for up to 100.000 test records
Thermal printer/Bluetooth
2D barcode scanner
Connectivity Wi-Fi, 3G
Geo-Location of tests by GPS
Cartridges to detect up to 7 types of drugs with OCR reader
Standard formats available. Drug tests compatible with the analyzer:
CDP-SCAN-7. Multidrug test in saliva
A: THC 40 / OPI 20 / AMP 50
B: COC 20 / MET 50/ BZO 10
C: KET 50
Other on-demand options:
A: THC 40 / OPI 20 / AMP 50
B: COC 20 / MET 50/ BZO 10
C: KET 50
Marihuana (padre THC): 12 [ng / mL]
Amphetamines 50 [ng / mL]
Opiates: 20 [ng / mL]
Cocaine: 20 [ng / mL]
Methamphetamine and ecstasy (MDMA): 50 [ng / mL]
Benzodiazepines or Phencyclidine or Oxycodone: 10 [ng / mL]
Stock productions are made with custom cuts for orders of 500 or more units.
* Opiates 10 [ng/mL] available as well.
** Cocaine 15 [ng/mL] available as well.
Specifications:
CPU:  ATMEL Sama 5D31 536Mhz
Screen: Touch screen 4.3″ (800X480)
Operating system: Linux
Dimensions: 20.9 X 9 X 5.64 cm
Weight: 443.80 gr (with thermal printer) 413.90 gr (without Bluetooth printer)
Battery: Lithium battery 7, 4V / 1800 mA
Battery life: 350 test (with printing) 1.000 test (without printing)
Camera: 130 megapixels
RAM: Flash memory 256Mb SDRAM 4Gb
Storage capacity: 100,000 test records
Use temperature: -25 to 50º
Storage temperature: -25 to 70º
Barcode: 3095
CPS: U-Blox6
Printer: Built-in thermal printer / external Bluetooth printer
Internet: Wi-Fi and  3G
Available drugs:
Drug/Cut
AMP (Anphetamines) 50
BZO (Benzodiazepines) 10
BUP (Buprenorphine) 5
COC (Cocaine) 20
COT (Cotinine) 50
EDDP (Metabolite of methadone) 20
KET (Ketamine) 50
THC (Metabolites) 12
THC (Hashish, Marihuana) 50
 MTD (Methadone) 30
MET (D-Methamphetamine) 50
OPI (Opiates) 40
OXY (Oxycodone) 40
PCP (Phencyclidine) 10
PPX (Prophylaxis) 50
BAR (Barbiturate) 50
MDMA (Extasis) 50