Description
Multi-drug urine test with container, timer and thermometer.
The body metabolizes drugs through the liver. It transforms them into metabolites so that they can be eliminated. The task of expulsion from the body is exercised by the kidney, although elimination is carried out through sweat and feces.  That is why, to detect its consumption, a urinalysis is performed.
With a reliability level of more than 99%, you can detect up to 12 types of common drugs with the cup tests of the prestigious biotechnology firm Safecare. This innovative format has its own sterilized container with timer and thermometer for the optimal conservation and validation of the sample.
The amount of time that a drug remains in the body and can be detected may vary depending on the substance consumed, the person's age, fat storage or metabolism. Specifically, amphetamines and cocaine remain in the body for up to 4 days, while cannabis can be detected up to 30 days after consumption
Urinalysis allows us to detect the most consumed drugs in our society today. This includes: cocaine, cannabis, opiates and amphetamines.
The multi-drug urine test with container, timer and thermometer is simple to use and intuitive in its interpretation. It is able to detect the presence of the following substances:
AMP – Amphetamine 500 ng/mL
COC – Cocaine 300 ng/mL
MDMA – Ecstasy 500 ng/mL
THC – Cannabinoids 50 ng/mL
OPI – Opiates 2000 ng/mL
BZO – Oxazepam 300
MET: Methamphetamine 300
MTD – Methadone 300 ng/mL
PCP – Phencyclidine 25 ng/mL
BUP – Buprenorphine 10 ng/mL
(Stock available)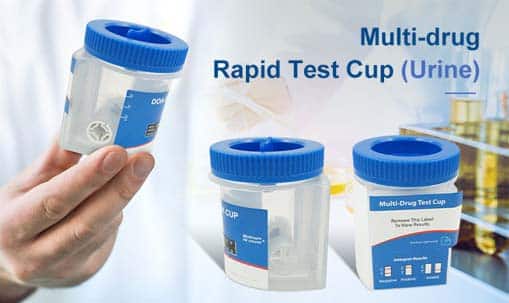 It is able to detect the presence and combinations of the following substances with the cut-off points indicated below:
Includes a timer and thermometer to ensure optimal sample quality: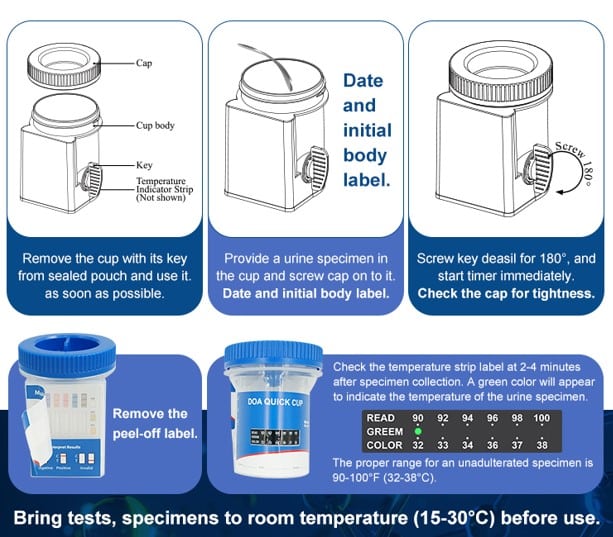 It allows to detect adulterations in the test:
Multi-drug in urine with container, timer and thermometer:
Detect the presence of drugs in urine.
Quick and easy to use (3 steps).
Show results in 5 minutes.
Clear and intuitive cassettes, easy to interpret and document (if needed).
Sensitivity levels of 99%
Detect the presence of up to 12 major drugs.
Comply with EC and UK regulations.
By having their own packaging, samples can be sealed and sent to other toxicology laboratories for further evaluation.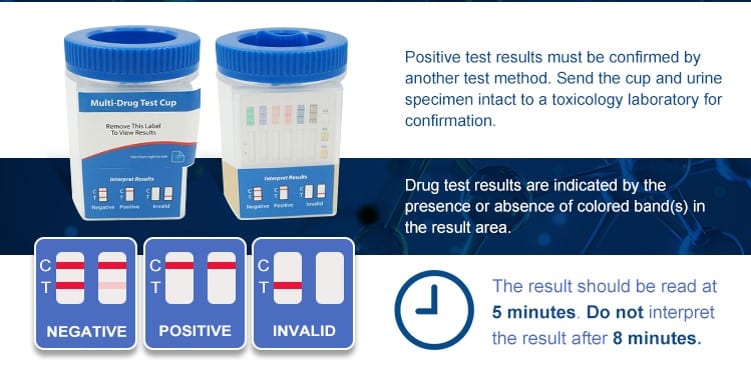 They are supplied in sealed containers for optimal conservation and handling: