Description
JusChek. STREP A diagnostic rapid test.
Immunochromatographic test for the qualitative detection of group A antigens of Streptococcus, from throat swab samples. Key tool in the diagnosis of strep throat.
Very easy to use, especially suitable for children. Fast results, maximum 15 minutes.
Test for the detection of Strep A with the possibility of changing color when the reagents are added, which certifies that the proportion of reagent is correct and allows an adequate reading of the sample.  Has Control + and Control – in each of the boxes
Sector: Healthcare
Areas: Medical consultation, Microbiology, Pediatrics, Emergencies  ,  etc.
Product lines: Cassette, Respiratory Diseases, Rapid tests, etc.
Manufactured by JusChek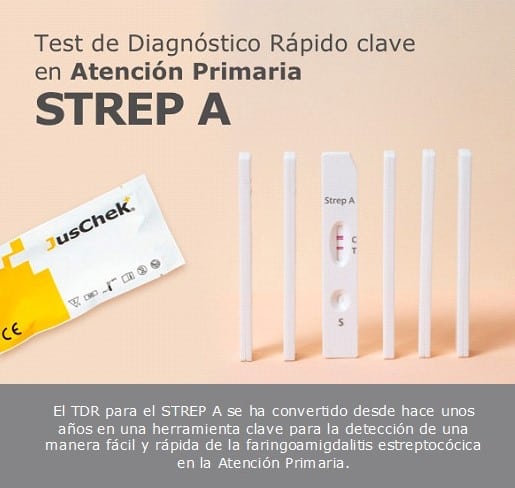 Characteristics:
Fast results, maximum 15 minutes.
Especially indicated in children.
Easy to use, no additional equipment required.
Easy interpretation.
How to use / procedure:
Ordering Information:
Ref.: ISTB-502
Muestra: Swab
Formato: Cassette
Units/Box: 20 test