Description
CDP3210 Multifunction air purifier HEPA/UV/IONIZER/OZONE
The CDP3120 multifunction air purifier is a device that combines the 4 most effective purification and hygiene technologies against environmental pollutants, including viruses and bacteria: HEPA FILTER/UV RADIATION/IONIZER/OZONIFIER. It is a state-of-the-art air purifier with four levels of purification designed to purify and cleanse the indoor air of closed rooms safely and effectively, without having to use chemical agents. Its intelligent design allows an automated operation to cover spaces of up to 20m2.

Innovative air purifier with exclusive applications:
Compound HEPA filter
Ionizer
UV shortwave radiation disinfection
Ozoning with 20-minute automatic timer
Large touchscreen control
Allows adding an air freshener
The CDP3120 Multifunction Air Purifier was designed to renovate, disinfect and purify the air inside rooms. This intelligent purifier combines the 4 most effective technologies for the disinfection and hygiene of your home or workspace: IONIZER, OZONE GENERATOR, UV DISINFECTION and HEPA FILTER.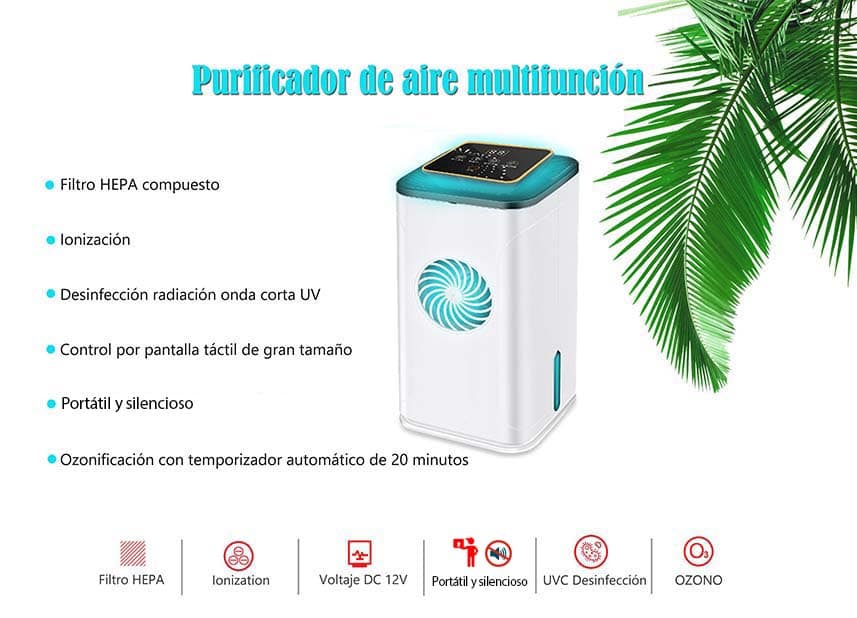 IONIZER FEATURE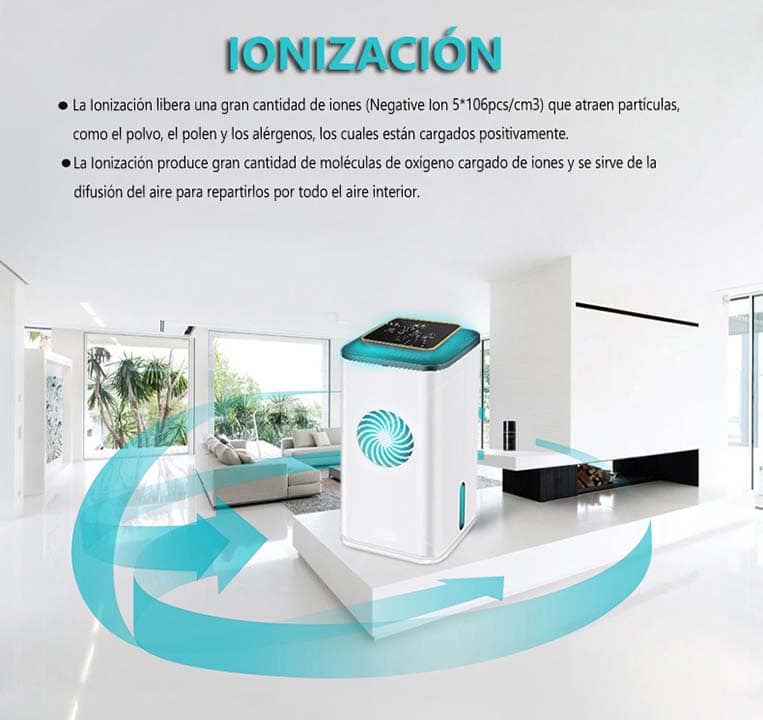 The Ionization function releases a large number of ions (Negative Ion 5*106pcs/cm3) that attract particles, such as dust, pollen and allergens, which are positively charged. Particles become heavy and fall to the ground, out of the respiratory system. Negative ions also play a role in disinfection and air purification, destroying formaldehyde, preventing corrosion and eliminating smoke and odor indoors, as well as deeply sanitizing a room.
Ionization produces a large number of oxygen molecules charged with ions, and it uses the diffusion of air to spread them indoors. When in contact with a particle of the opposite sign – say in case of a virus or a bacteria – in its natural need to seek balance, the molecule of ionized oxygen yields the leftover ion, producing the oxidation of the virus or bacteria and causing its inactivation or death.
OZONE GENERATOR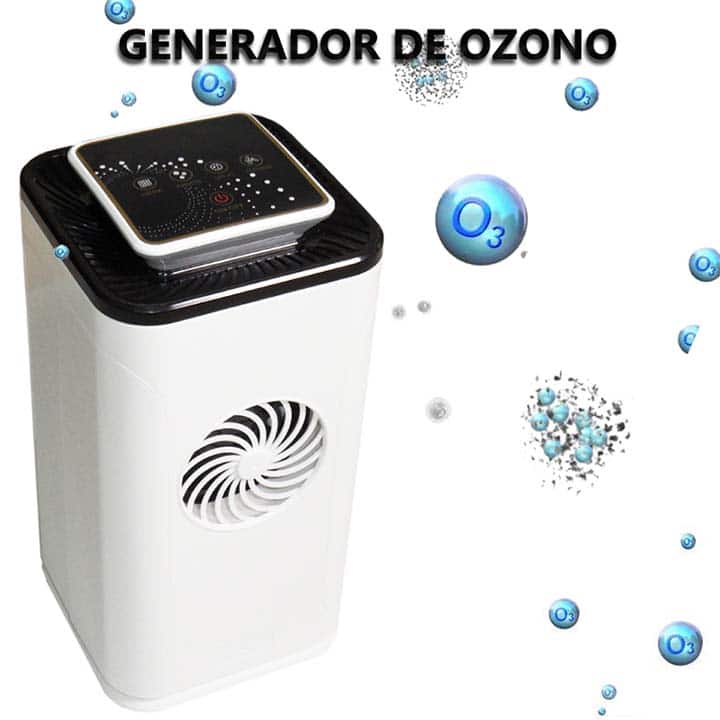 The ozone generator is ideal to neutralize strong odors. It also helps eliminate bacteria, germs and viruses that are harmful to breathing. Ozone kills 99.9% of bacteria.
Ozone has fungicide properties and is capable of destroying all kinds of toxins, bacteria and viruses — such as Covid-19 — present in an environment, purifying the air with each application.
Ozone treatments renew and oxygenate air in enclosed spaces, eliminating odors, and all types of harmful agents. Because it is a gas, it can reach many areas.
UV SHORTWAVE RADIATION DISINFECTION FUNCTION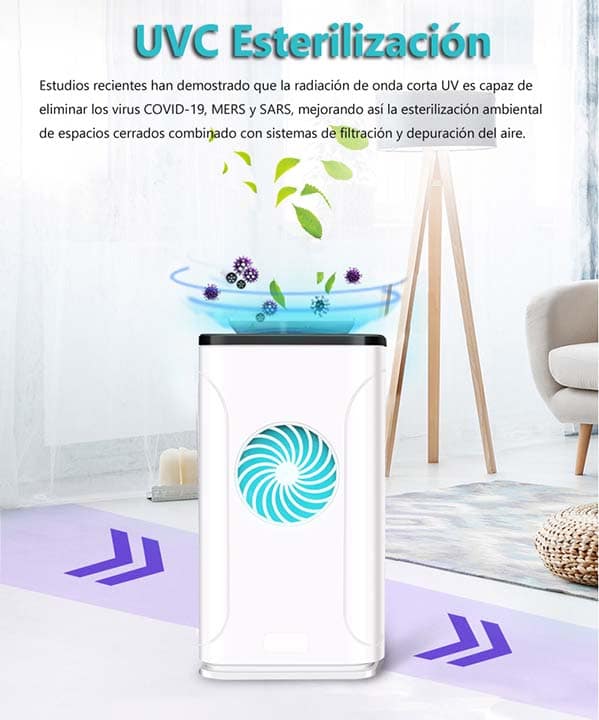 Recent studies have shown that UV shortwave radiation is capable of eliminating COVID-19, MERS and SARS viruses, thus improving indoor environmental sterilization combined with air filtration and purification systems.
Ultraviolet sterilization is the process of destroying all microbial life by means of ultraviolet radiation.
UV radiation with C-type rays (200 to 290nm) is used to perform this process. Since these are the shortest and potentially most harmful ones, they are used in the treatment of water, air, and different surfaces. Ultraviolet or UV light is one of the proven means of treating biologically contaminated water, air or surfaces. This type of radiation can eliminate germs, bacteria and fungi in a natural disinfection process. UV radiation penetrates the cell wall of microorganisms and is absorbed by cellular materials, producing mutations in their DNA that are lethal in single-celled organisms, therefore they are weakened and their reproduction capacities are reduced. In the case of bacteria, germs, viruses, algae and spores, they die on contact with light.
HEPA FILTER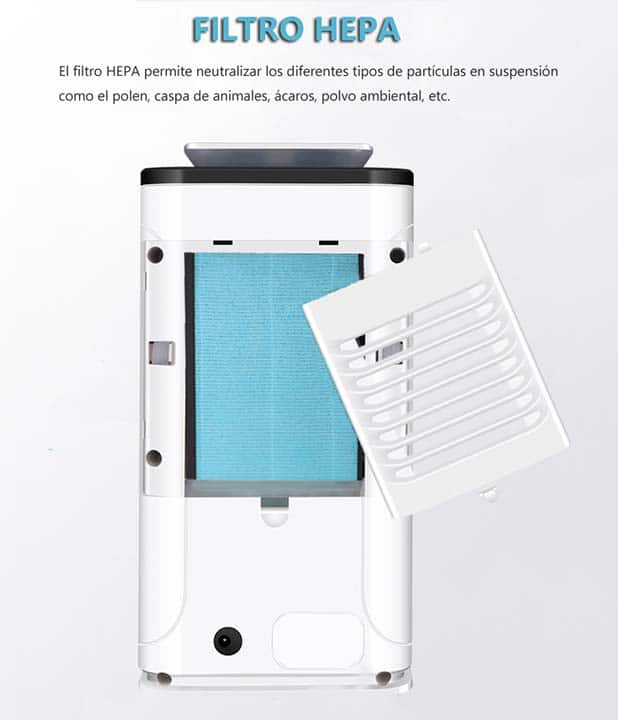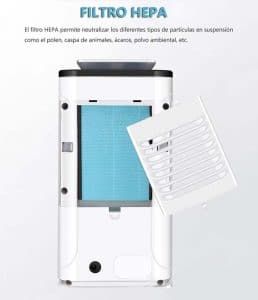 A filter is a mechanism whose mission is to stop the passage of particles.
A HEPA filter consists of a mesh of randomly placed fibers. These fibers are usually layers of cellulose, synthetic fiber and/or glass fibers. They are arranged in the form of an accordion, which means that their surface is larger and therefore more capable of capturing these particles. The HEPA filter allows to neutralize the different types of suspended particles such as pollen, animal dandruff, mites, environmental dust, etc.
Tobacco smoke, mites, dust, pollen, dandruff, mold, biological and chemical toxic substances and other air pollutants are everywhere. For allergy sufferers, these substances make the air in your home, vehicle or office very harmful to your health, especially, at night. Now you can permanently get rid of these pollutants and enjoy clean, healthy air and feel a pleasant well-being.
It has been designed to cover rooms of up to 20 square meters. It has a timer with sensors to ensure that the room reaches an optimal state of disinfection and hygiene, not exceeding the recommended concentrations.
Technical specifications:
Voltage: DC 12V/50Hz
Noise: <55dB
Ozone: 50-80mg/h
Negative ions 5*106pcs/cm3
CADR 120m3/H
Power: 8W
Material: ABS
Coverage: 10-20 m2
Net weight: 1kg
Gross weight: 3kg
Dimensions (L*W*H) 140*140*280mm
Package 182*230*375mm