Description
With this ozonated water (O₃) disinfectant spray, you only need to add water to produce a high concentration of ozone to completely disinfect and sterilize any type of surface. Its proven sterilization rate is 99.99% against E. Coli and Staphylococcus aureus.
Unlike other disinfectants that leave harmful chemical residues, the ozone generated for cleaning is harmless to both people and the planet. As it ends up dividing and forming oxygen, it does not leave chemical traces harmful to the environment and has no danger or consequence for the surfaces on which it is applied.
This ozonated water disinfectant (O₃) bottle will allow you to clean your home (kitchen, bathroom, etc.), disinfect pets, children's toys, sterilize fruits and vegetables, clean shoes, clothes, etc. covering virtually all the disinfection needs of your home, office, etc
Main functions:
Effectively kills bacteria and viruses (especially resistant E. Coli and Staphylococcus Aureus). Proven sterilization rate of 99.99%.
Saves energy. Ozonated water is produced with low energy consumption. In addition, only water is required to achieve highly concentrated ozone.
It's eco-friendly. It does not release any toxic byproducts such as nitrogen oxide (NOx) during the oxidation process. Therefore, it is harmless to the skin and the environment.
Patented scientific design: Easy to use thanks to its high-pressure nozzle. Generates a stable ozone concentration and does not oxidize.
It has great purifying properties for food. Spraying the ozonated water on fruits and vegetables will eliminate toxins, bacteria, germs and chemical fertilizers before being consumed. In addition, it will allow food to last longer (up to 30%).
Beneficial for plants. Ozonated water provides a greater amount of oxygen to the root. In addition, it arrives free of viruses, bacteria, fungi, algae, spores and any other microorganism, so a much faster and stronger growth is possible, as well as allowing more productivity. Prevents plant diseases such as cockroach virus, etc.
How does an ozone generator work?
The ozone layer of our planet is located in the stratosphere, about 15 – 35 kilometers above the earth's surface. The mission of ozone is to absorb dangerous ultraviolet radiation from the sun and prevent it from causing damage. Ozone is composed of three oxygen atoms (O₃). Two of these atoms are part of the oxygen we breathe. The third oxygen atom, which can be released, is the one that gives ozone unique properties.
Ozone is a very potent oxidizing agent, much more so than chlorine bleach, and can be used to remove all sorts of harmful floating molecules. This occurs because the third oxygen atom breaks off from the molecule and binds to other substances, altering its chemical composition.

This ozone generator generates triatomic O₃, at the touch of a switch, allows to have a container full of sterilizing molecules.
The best disinfectant
Ozone molecules are 2.5 times more effective than chlorine at fighting mold, mildew and pathogens.
Is ozone harmful to our skin or environment?
No, ozone water only improves the freshness and longevity of food while disinfecting it. Ozonated water does not corrode stainless steel, damage appliances, utensils or other household products. This ozone water sprayer is not harmful to our skin either.
O3 is the perfect disinfectant: Effective, powerful, ecological, leaves no residue and is cost-friendly
Applications:
Washing fruits and vegetables
Disinfection and cleaning of footwear
Disinfection and hand washing
Sterilization and cleaning of mobile screens
Guaranteed disinfection: laboratory test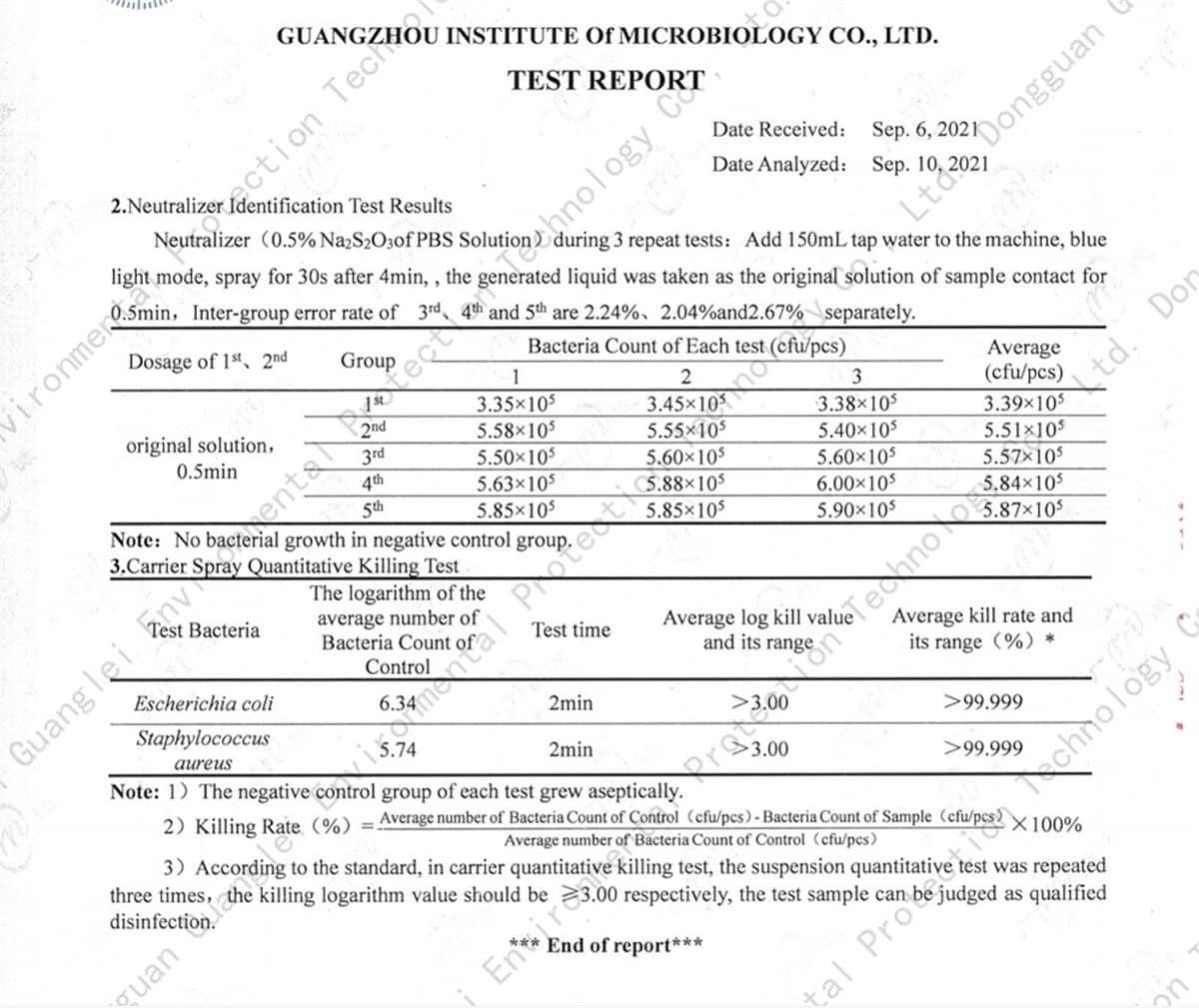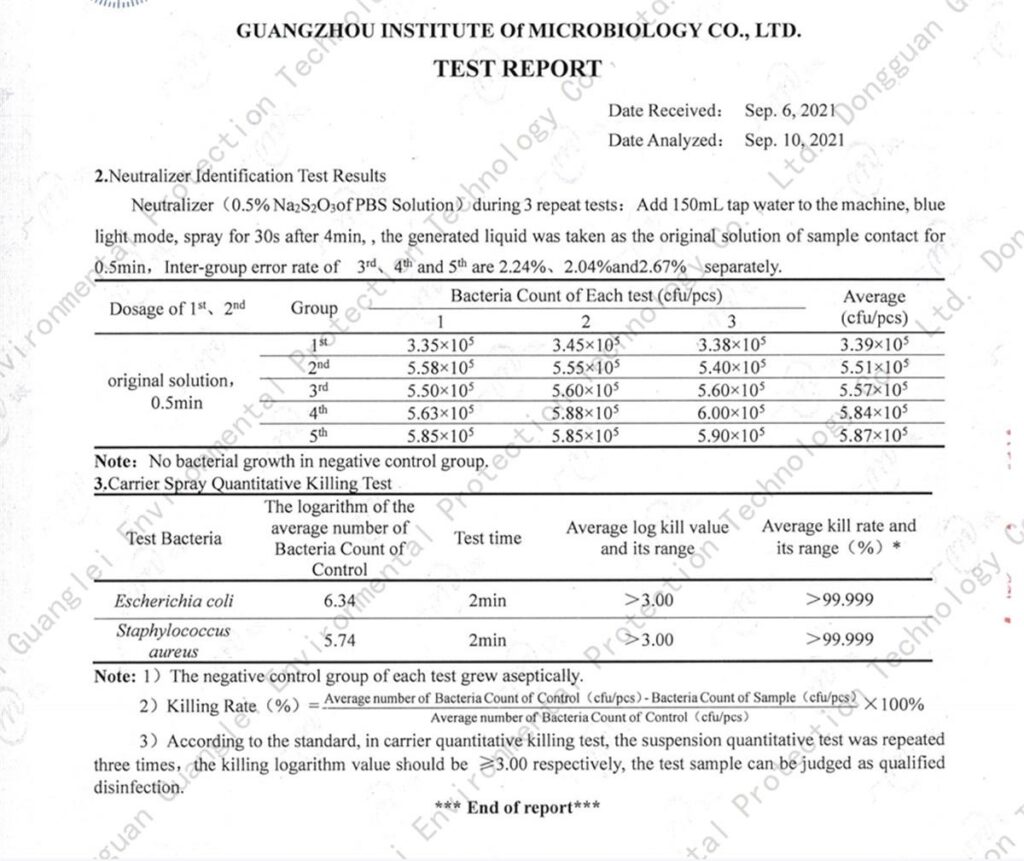 Easy to use and quick:
Add tap water to your bottle.
Press the ON button. Wait 120 seconds to transform tap water into ozonated water.
Spray on the surface you want to clean.
Specifications:
Model: CDP-601
Product size: D88 mm x H269 mm
Net weight: 0.34 kg
Bottle capacity: 280 ml
Functions: Food cleansing, sterilization of objects and hands, for plants, for deodorizing and cleaning fabrics and shoes, for washing pets, for daily cleaning of the house, office, public areas, etc.
Production time: 2-4 minutes
Concentration of O3: 1-2.32 ppm
Battery life: 40 minutes approx. after full charge
Full charge time: 1.5 hours
Battery capacity: 1800 mA
Power supply: Universal Type-C interface
Charging power: Power DV 5A: <8W