Description
5G portable water ozonator for professional disinfection and sterilization Ozone-Clean.
A portable water ozonator is a device that uses ozone to disinfect and sterilize water. Ozone is a gas composed of three oxygen atoms that has oxidizing and antimicrobial properties, making it an effective agent for disinfecting and sterilizing.
The portable water ozonator works by generating ozone and then dissolving it in the water to be treated. Ozone reacts with contaminants present in water, such as bacteria, viruses, fungi and other microorganisms, oxidizing and eliminating them.
Professional ozonizers can be used in a variety of settings, such as in the food industry, hospitals, hotels, restaurants, spas, beauty and wellness centers, and in general anywhere where a high level of hygiene and disinfection is required.
The 5G portable ozone generator is an ozonator designed for professional applications. It is manufactured with a 304 stainless steel casing, with an important ozone production capacity of up to 5 grams, in a contained and manageable size that allows mobile maintenance and cleaning applications in all types of industries. The kit includes all the necessary elements for its use, including the pressurized ozonated water gun or diffuser.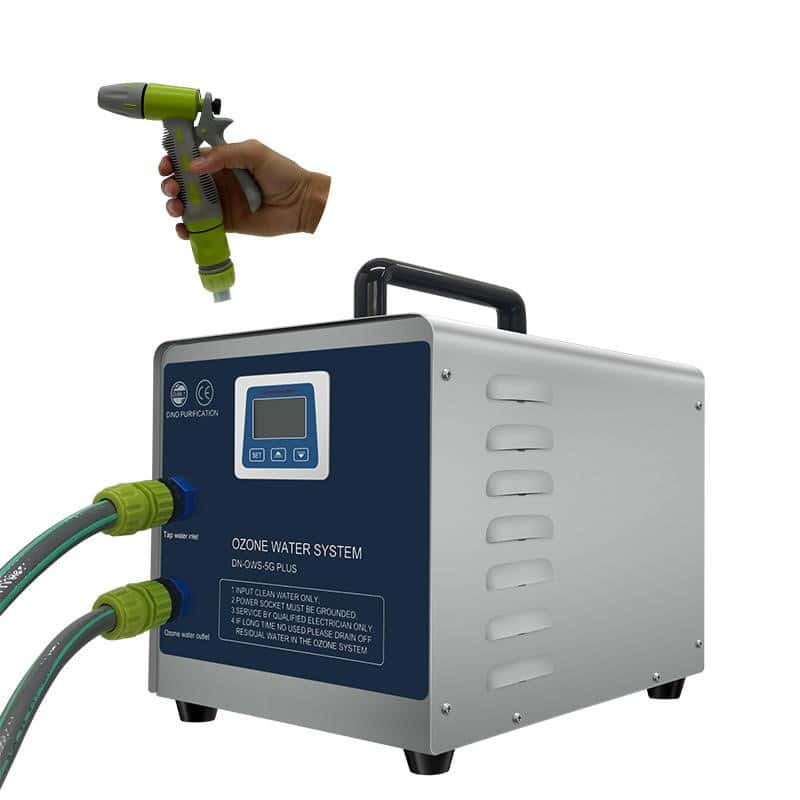 Certifications: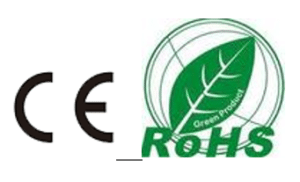 An ozonator is a device that generates ozone (O3) from oxygen (O2) through a process called electric discharge or corona. Ozone is a powerful oxidizer and disinfectant, which can be used in cleaning and disinfection in various industries, such as food, pharmaceutical, aquaculture, hospital, among others.
The use of ozonizers in cleaning offers several benefits, such as:
Effective disinfection: Ozone is capable of eliminating bacteria, viruses, fungi, spores and protozoa, as well as reducing or eliminating undesirable odors. In addition, ozone leaves no chemical residue, as it quickly breaks down into oxygen.
Environmental sustainability: The use of ozone reduces the use of cleaning and disinfection chemicals, which contributes to the protection of the environment.
Saving time and resources: Ozonizers allow faster and more efficient cleaning and disinfection, which translates into a reduction in costs and working time.
Longer life of equipment and surfaces: By not using harsh chemicals, the wear and corrosion of equipment and surfaces is reduced, which prolongs their useful life.
Safety for workers: By reducing the use of chemicals, the risk of exposure to potentially harmful substances is reduced.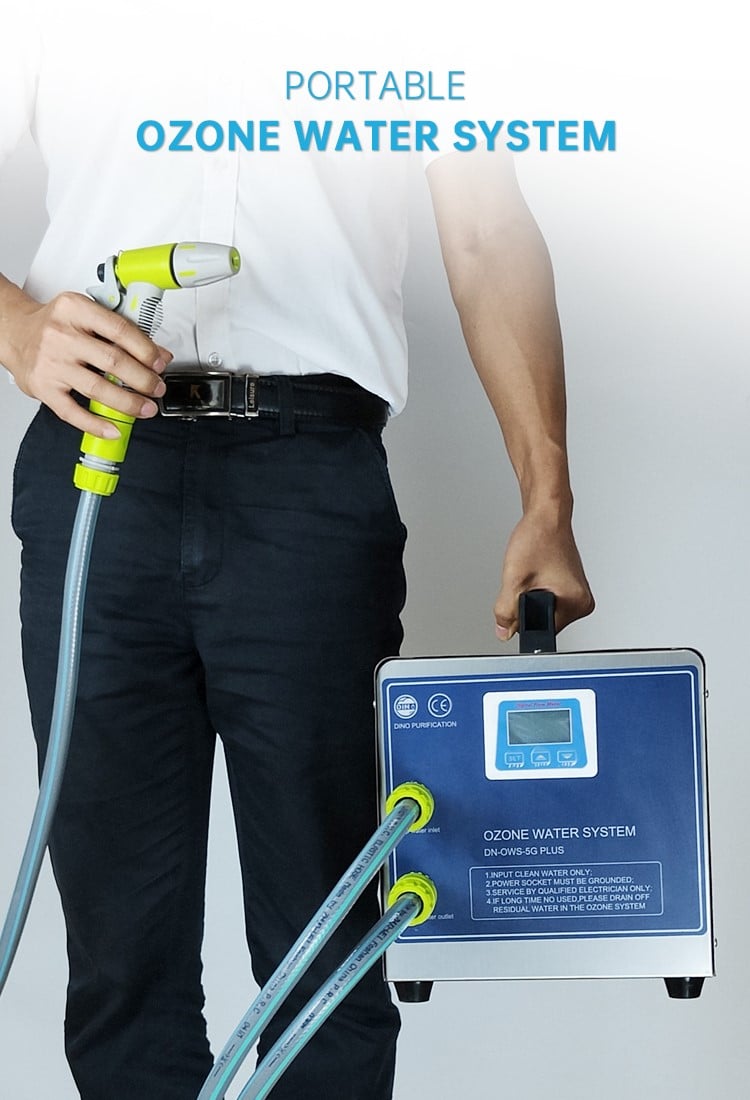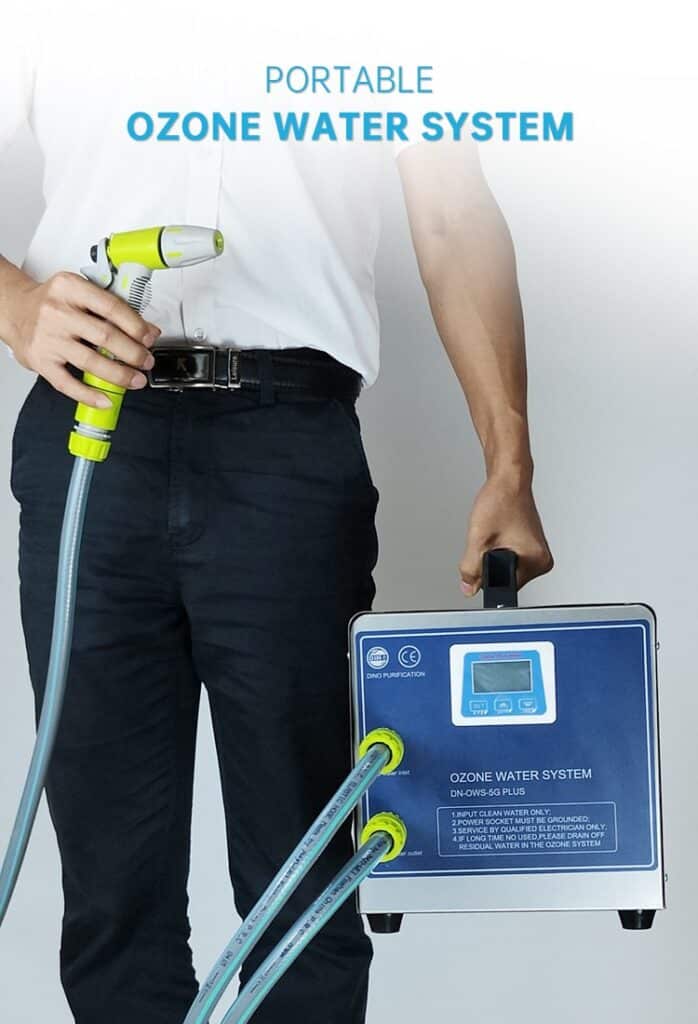 Use and applications: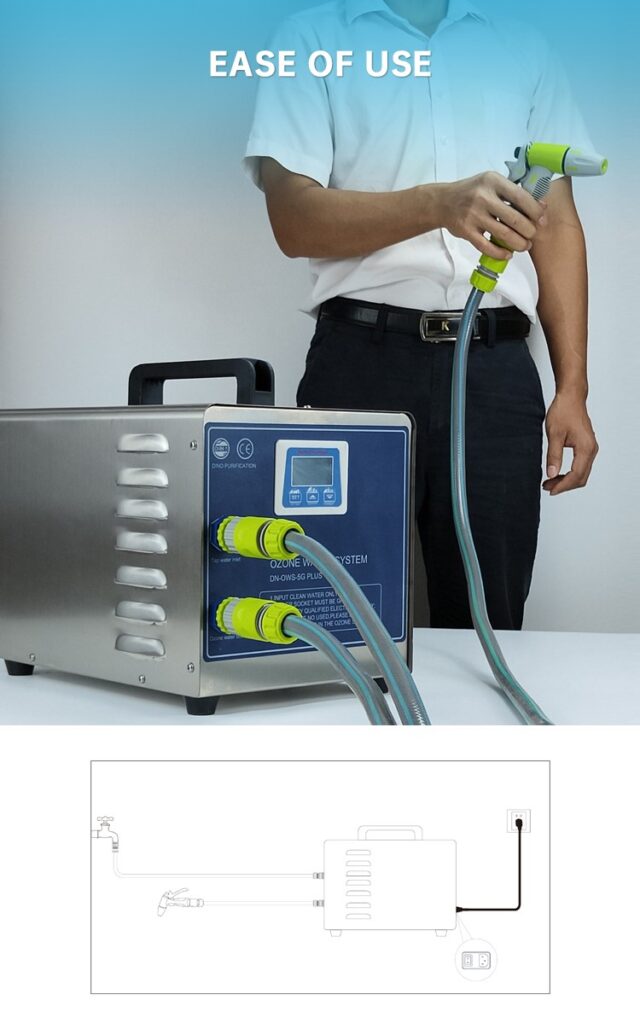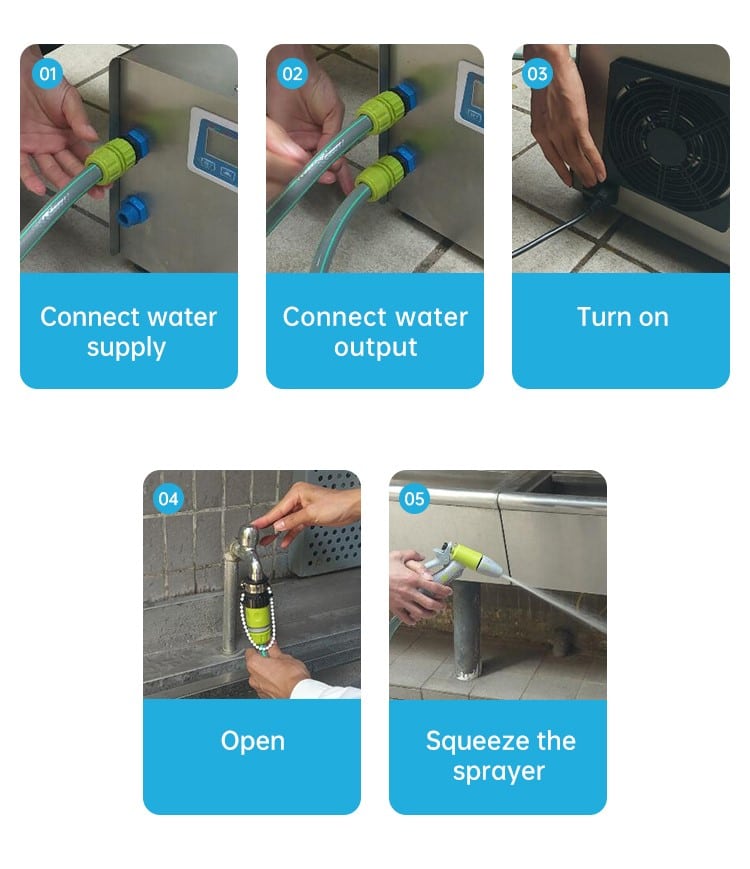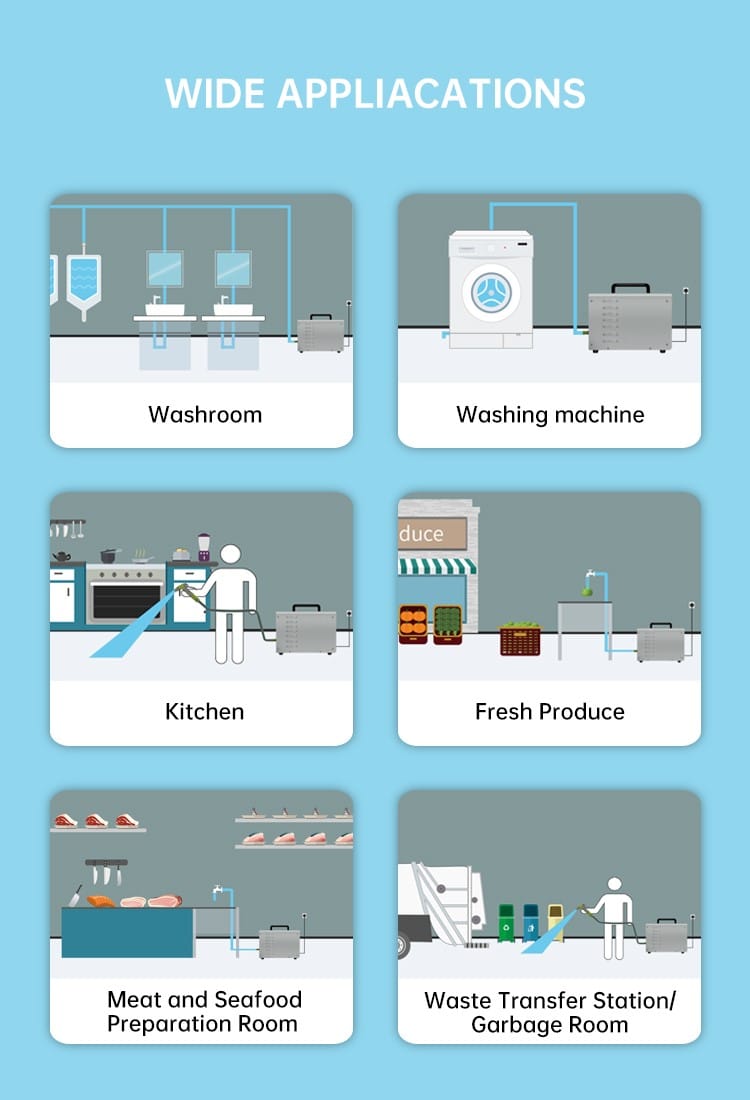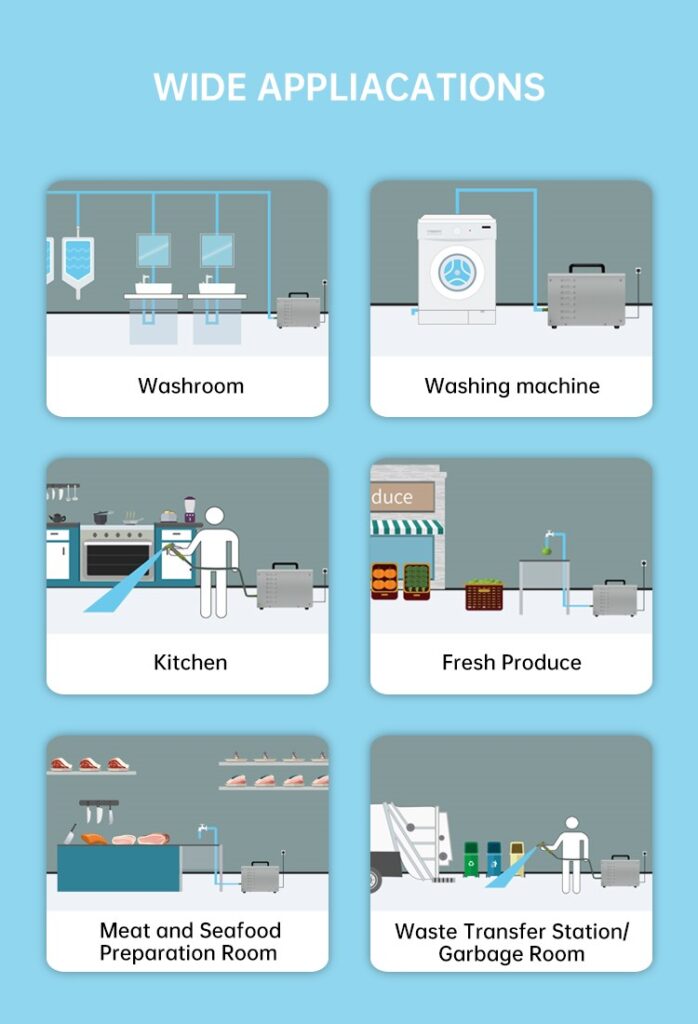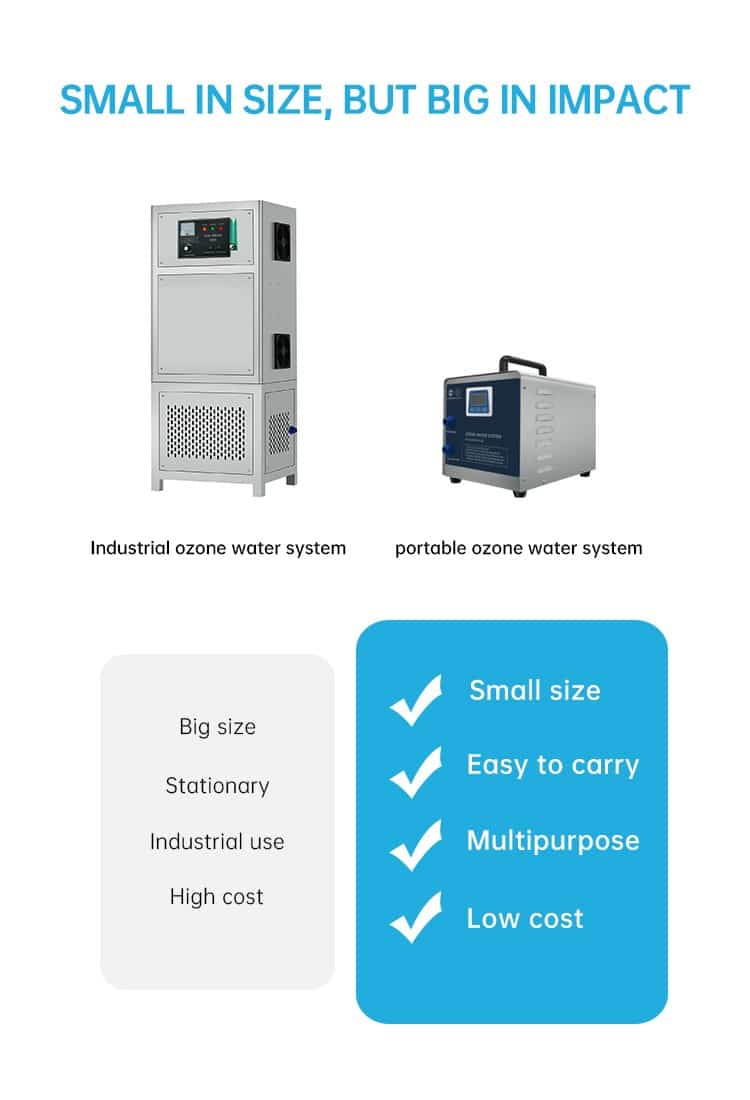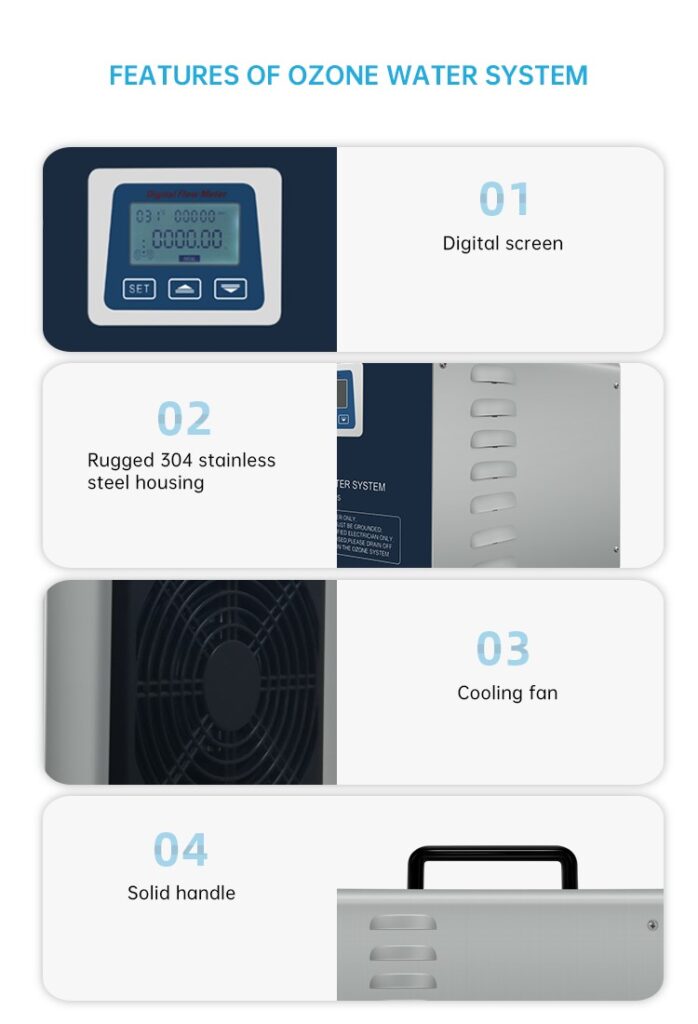 Technical specifications:
Nombre: Generador de ozono portátil
Modelo: CDP-5G plus
Cubierta: Acero inoxidable 304
Dimensión: 37(L)*25(W)*30(H)cm
Voltaje de entrada: 220-240VAC@50-60Hz
Producción de Ozono: 5,00 g/Hora
Concentración de agua de ozono: 1-3 ppm
Volumen de agua de ozonizada: ≤10 LPM
Consumo de energía: <300 Watt
Flujo de agua ozonizada: 600 L/Hr
Concentración de ozono disuelto: 1-3 ppm
Presión del agua de entrada: 0-2 bar
Presión del agua de salida: 1.5-3 bar
Dimensión: 37*25*30cm
Peso: 12.6kg
Garantía: 2 años


Protected packaging: