Description
Guth Model 12V500 Alcohol Breath Simulator is a State-of-the-Art
The Guth Model 12V500 Alcohol Breath Simulator is a State-of-the-Art, electronically temperature controlled, water-alcohol instrument for the purpose of providing a precise calibration standard for testing or calibration of alcohol breath analyzers. The Model 12V500 is the first simulator of its kind to incorporate dual temperature probes to independently control and monitor the temperature of the solution. The temperature of the water-alcohol solution placed in the simulator is maintained at 34°C ± .05°C or better. The inlet and outlet port pathways have been designed to be an integral part of the one piece heated aluminum top housing thus allowing uniform heating and reduction of condensation. The new LCD graphics display has a temperature resolution of .01° C and in the event of an error allows feedback to the user in the form of messages instead of codes. As with all Guth products the 12V500 has been engineered using the highest quality components to give reliable, accurate and trouble free operation.
This KIT includes the simulator 12V500 and the 10 LPM / 20 LPM Dual Air Pump – Multi-Blade
US and Foreign Patents.
Performance
Temperature Stability: better than ± .05°C
Warm-up Time, Solution and Head Space: less than 10 minutes at 20°C
Recovery Time from Test: less than 5 seconds
Solution Level: 500ml
Calibration Stability: 1 year
Features
DUPLEX Temperature Monitoring and Control System.

Microprocessor controlled circuit to heat and maintain solution temperature of 34.00°C.
Independent circuit for monitoring and display of solution temperature.

Machined one piece Top Housing design with integrated manifold allows uniform heating of the inlet and outlet passages. This design allows for the elimination of condensation due to unheated or poorly heated tubing inside of the simulator.
Controlled Head Space Heater (U.S. Patent No. 7,493,793). Rapidly heats top housing and passages to a uniform temperature eliminating equilibration time (15-60 minutes) usually needed once attaining 34.00°C.
Backlighted 132 x 32 pixel LCD Graphic Display.

Temperature display resolution of .01°C.
Visual indication of head space heater and solution heater activity.

Self diagnostics with audible and visual indication of system status. Status messages are displayed indicating exactly what is wrong with the simulator instead of error codes.
12 VDC operation.
Included Power Supply – Input 100-240 V~1.5A, 47-63Hz; Output 12 VDC @ 8.33 A; UL/ cUL/ CE Listed.
10 LPM / 20 LPM Dual Air Pump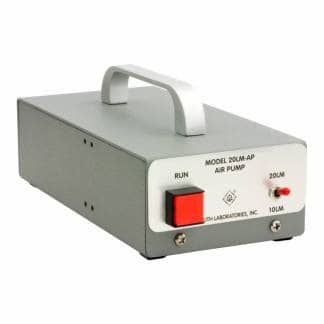 10 Liter per minute and 20 Liter per minute Precision Stand Alone Simulator Air Pump. Specifically designed for the calibration of automotive ignition interlock systems when used with alcohol breath test simulators. May also be used for testing and calibration of alcohol breath test instruments.
10 LPM / 20 LPM Dual Air Pump Specifications
Consuluction: Light Weight, All Metal, Powder Coated.
Weight: < 2 lbs.
Size: 8 1/2″ L x 3 3/4″ W x 3 1/4″ H (w/Handle).
Output: 10 or 20 Liters per Minute >1 PSI thru Female Sure-Lok Connector. Flow Rate is Switch Selectable.
Control: Push-Button Activated.
Power Input: 12 vdc Operation by External Power Pack (120vac 60Hz or 240vac 50 Hz) or Cigarette Lighter Adapter.
Warranty: 1 Year Parts & Labor.