Description
CDPMHT01 Viroblock reusable transparent masks. Homologated UNE0065
Try our see-through hygienic masks with innovative smart textile technology that provides antimicrobial fabric protection.
With Intelligent Swiss HeiQ Viroblock technology added during the final phase of the mask manufacturing process that makes the fabric antibacterial and water-repellent.
Made in Spain by a company dedicated with more than forty years manufacturing and selling textile articles. Official suppliers in the textile sector providing industrial, hotel and health uniformity.
In addition, our masks are reusable and washable (+ 30 washes). This makes them a sustainable and environmentally friendly product.
Its special translucent fabric allows seeing the user's face. This particularity makes them especially useful for teachers and trainers. In addition, you can read lips.
Its innovative textile technology provides maximum breathability, making them ideal for sports.
Its facial fit band is very soft. Because it is elastic, it allows a perfect fit. Its rubber is hypoallergenic.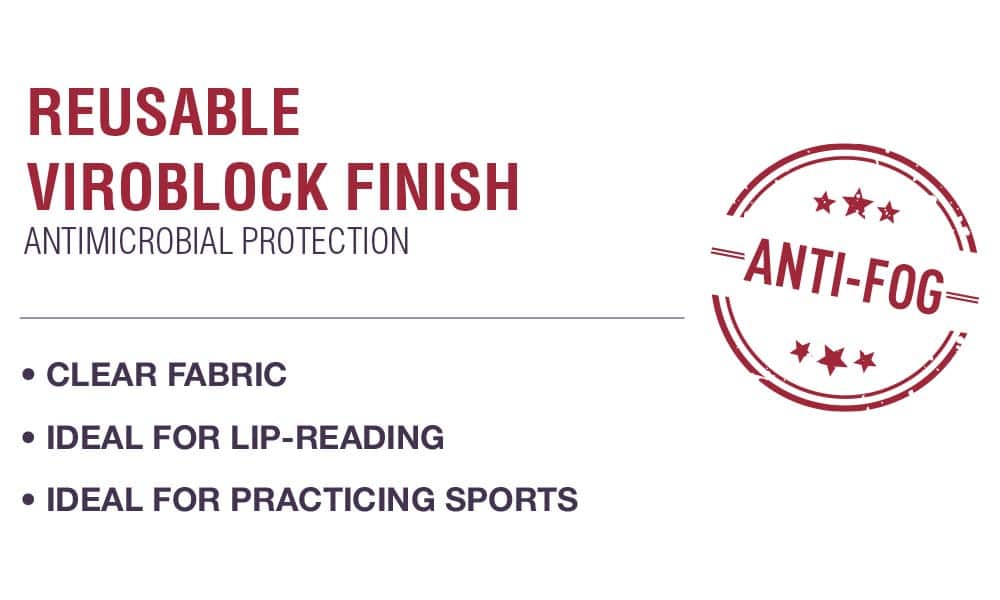 They are very pleasant and light. You'll forget you're wearing them. They allow you to breathe comfortably and your eyewear will not fog up. This last feature is highly valued by users. Ideal for use in enclosed spaces while wearing regular eyeglasses or outdoors with sunglasses.
Our hygienic masks have been approved and certified by Amslab (20-011250). They have passed a series of analyses that guarantee an adequate degree of protection. The tests necessary to comply with current regulations are: Bacterial filtration efficiency and breathability (differential pressure).
Available in various sizes: S – M – L – XL – XXL