Description
Temperature Measurement Panel, Facial and Mask Recognition CDPr100 (Configurable Access Control).
CDPR100 Access Control (Al Face Recognition and Body Temperature Measurement) is a complete epidemic prevention solution that integrates AI face recognition, body temperature measurement, mask recognition, and access control. On-site efficient temperature detection, person identification and human movement management, effectively reducing pressure on epidemic prevention and control, as well as human resources costs.
BODY TEMPERATURE MONITORING
Set the body temperature threshold, through the associated access control, do not open the door and press the alarm when someone exceeds the threshold.
SMART RECOGNITION (If desired, configurable function)
Compared to the facial photo database, recognize visitors who are on the Whitelist, blacklist, or a stranger or guest.
VOICE WARNINGS
The device itself has a voice transmission capacity and a voice reminder according to a predetermined result.
You can connect external equipment for example to operate on a lathe, electric lock, voice transmission, display equipment and alarm equipment.
High-precision thermal with infrared module
Automatic recognition of mask use
Visual and voice alarm for normal body temperature and mask use.
Binocular recognition anti-counter felt function, anti-cheat photos, videos, etc.
Precision facial recognition > 99%. Recognition speed <200 ms
Low-light, infrared and RGB recognition, worry-free recognition
Face, temperature detection, optional IC card, ID card
Working environment
– 10 ° C-60 ° C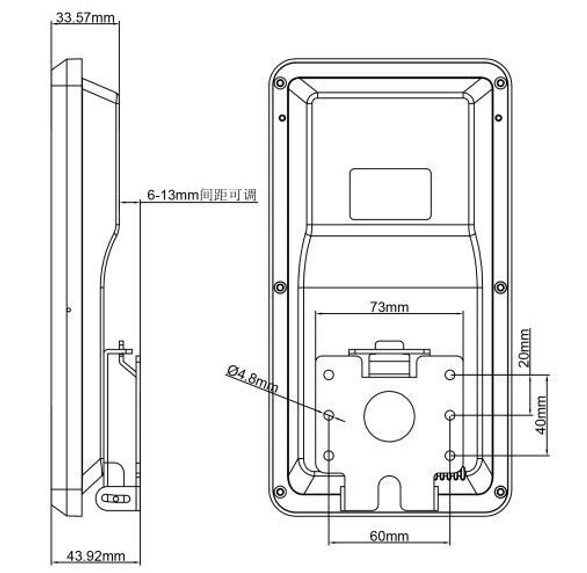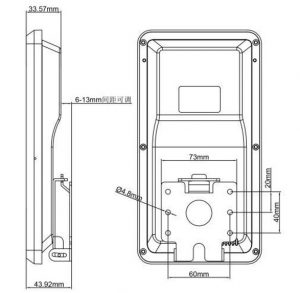 Connections
J1 Access control

(exit)

1 and 2 waiting for open contact, if the identification is correct it closes.
3 and 4 waiting for closed contact, if identification is correct it opens.
Restart key J2
Power connectorJ3
DC 12V
Alarm output J4
Output alarm GND + ALMO 1, without action output 3.3V,with action output 0V
Connector J5 Wiegand
-WGNI0 + WGNI1 (input)
J6 RJ45
100 Mb
J7 USB
5V DM DP GND
Technical characteristics
Model
CDPR100
Product
Main board model
RS-H658AI-A0-A
Sensor model
RS-H658S-A0-B
System
Chip
Hi3516CV500
Operating system
Incorporated operating system LINUX
Video
Image sensor
1 / 2.8 IMX327
Compression
H.265
System
PAL 50 HZ / NTSC 60 HZ
Resolution
1920 * 1080
Size LCD
Size LCD 7" screen
Video Bit stream
128 kbps-12288 kbps (default variable code rate)
SNR
SNR ≥69dB
Minimum light
Day mode 1Lux, night mode 0.01Lux
Mode D / N
Automatic (passive mode) / day mode / night mode / automatic mode / timing
(AWB) / (BLC) / (AGC) / WDR
AUTO
(AES)
 AUTO / 1/50(1/60)-1 / 100,000seg
Video output
 Easytool / EasyVMS / APP / 7" screen
 Motion sensor
Supported
Screen capture
Supported
Function
Body temperature test
Support (0.3-1.2M distance,error ± 0.3℃)
Mask recognition
Supported
Access control assistance
Supported
Audio
Coding standards
G.711U
Audio input
MIC passive / speaker
Audio output
External speaker 8Ω / MAX 1.5W
Recording
Recording mode
Manual recording, alarm recording, timed recording
Recording storage
TF Card (pcb completely functional) / PC / NVR
Alarms
Alarm input/output
Supports weigen protocol
Alarm trigger
Motion detection alarm, speaker alarm, alarm recording, image capture, mailing
Network
Wi-Fi module / protocol
 M8188 (eternal antenna 2.4G) / supports 802.11 b / g / n (pcb completely functional)
Network protocol
HTTP, TCP / IP, IPV4, UPNP, RTSP, UDP, SMTP, NTP, DHCP, DNS, IP filter, PPPOE, DDNS, FTP, IP search (admits IP camera P6S, DVR, NVS and etc.)
Other
TF card storage
Maximum support 128 GB (in common use FAT32 format) pcb of complete function
Work voltage
DC-12V standard (wide voltage 10-16V)
Work current
160mA ±10mA
Work environment
-20℃ — +65℃
Size
Printed circuit board
85mm * 60mm
Sensor Pcb
66mm * 27mm