Description
Evidential Ethylometer CDP9000-CAM with camera and printer
The CDP 9000 CAM ethylometer has been designed for police and work use.
It is equipped with: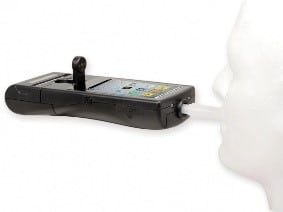 A high-precision European-made electrochemical sensor.
A printer built into the same equipment.
A camera for the identification of the examinee at the time of testing.
This product has been designed, manufactured, and tested according to rigorous international quality standards related to the OIML R 126 standard, following the recommendations regarding evidential breathalyzers. Since each country has its specific legislation, we recommend consulting the local approvals for all authorized evidential use.
General characteristics:
Fast and accurate analysis.
Ensures high sensitivity and stability during testing.
GPS location with automatically synchronized calendar setting.
With 4.5″ TFT LCD touch screen .
With camera to take photos during the blowing phase.
Available data download software via USB Type-C to PC.
Includes a 10-mouthpieces kit with non-return valve.
Rechargeable battery 3.7 V Li-ion with continuous working autonomy greater than 50 hours (under normal use conditions).
Automatic protection system to prevent camera and sensor heating.
Auto monitoring of blow flow graphically.
Measurement range: 0 ~ 0,9% BAC o 0 ~ 9.0 ‰ BAC o 0 ~ 4,5 mg/l.
Four possible units of measurement:

Mg/L in exhaled air.
g/L in blood.
% BAC.
Mg/Ml.

User-adjustable alarm
Memory: Up to 150,000 complete records
Ticket content:

Device reference.
Printed Report No.
Date.
Time.
Room temperature.
Result.
Device status or mode.
Person examined.
Vehicle registration.
Postal address.
Signature of the person examined.
Police Reference (badge number).
This information can be custom designed for large projects.
Technical Specifications:
Sensor type: Fuel Cell Electrochemical Sensor with Interchangeable Plug&Play Module.
Accuracy: <0.400 ±0.020 mg/L // 0.400 – 1.000 ±5% // 1.000 – 2.000 ±20%.
Range of measurements:0,000~4,500mg/L(0,000~9,000g/L 0,000~0,900% BAC 0.000~9,000‰BAC).
Standard deviation:006 mg/L. (Drift: typically <0.6% of value measured/month.
Calibration cycle: every 12 months.
Alarm level: adjustable over a wide range from 200 – 0.600 mg/L.
Blowing time: 3.5 seconds. adjustable
Response time: < 10 seconds.
Long-term storage temperature range: 0℃ to +55℃. Relative humidity: 30% to 90%
Operating temperature range: From -20℃ a + 45℃ (50℃ to +40℃ for optimal operation).
Relative humidity: 30% to 90%
Atmospheric pressure: 700 to 1300
LCD Screen:5″ TFT LCD capacitive touch screen
Protective casing with anti-impact resistance manufactured ABS PA-777E, with Rockwell hardness level R-115 equivalent to SHORE D-130.
Certification CEM-PT0032.
Certificate GB / T 21.254 to 2.007; EC.
Compatible S & E, AS, NF, DOT, OIML126.
Dimensions: 208mm×78mm×37mm (printer included).
Weight: 360 g.
Includes:
Ethylometer CDP 9000-Cam.
Kit of 10 sterilized mouthpieces with non-return valve, 178NF format.
Protective case holder for accessories.
Thermal printer.
USB-C cable for data download to PC.
2 rolls of thermal paper.
ENAC calibration certificate.