Ethylometer CDP 8100 with Optional Printer
339,00€ 280,17€ without vat
This alcohol tester of maximum reliability and precision is equipped with an advanced electrochemical sensor and has been expressly designed to carry out alcohol level tests on the roadside or to perform controls with multiple users – with a typical sensibility deviation not exceeding 0.6% of the value measured per month.
General Characteristics:
Four possible measurement units:

Mg/L in exhaled air.
G/L in blood.
% BAC.
PPM.

Memory capacity to store the last 2,000 pieces of data, including the result, temperature, date and time of each measurement.
It has a reliable and precise digital graphic screen with 4 digits, with clear messages and easy to read. Its blue background light allows for night vision.
Software access by means of a password. Protected against unwanted intrusions.
Among other functions, it has:

An automatic shutdown feature.
Function that checks the next calibration period (recommended every 6 or 12 months).
Battery status control in real time.
Possibility to carry out measurements in passive form, in air or breath samples, etc.

Adjustable alarm level.
Interchangeable electrochemical sensor module.
It allows printing test results via wireless connection at a distance of up to 4 meters.
It allows transferring the results obtained or stored in memory to a PC via RS232 data cable (supplied with kit).
The information in the printed receipt includes:

Reference of the device.
Printed report number.
Date.
Time.
Environmental temperature.
Result.
Unit's status or mode.
Person tested.
Vehicle's license plate.
Postal address.
Signature of the person tested.
Police reference number.
* This information can be customized for large projects.

It can be used with alkaline or rechargeable batteries.
It uses special blowing mouthpieces manufactured with a high density polypropylene anti-return system that impedes the person who carries out the test from inhaling from the equipment, preventing infections, the spread of diseases, etc.
It allows the use of standard mouthpieces like those used by traffic agents in Spain. See photo.
It can be re-gauged every 6 months or annually at the CDP lab.
Technical specifications:
Sensor type: Electrochemical / Fuel Sensor.
Measurement range: 0.000 – 2.500 mg/L (BrAC).
Standard deviation: 0.008 mg/L.
Alarm level: adjustable in an interval of 0.200 – 0.600 mg/L.
Blowing time: 3.5 sec.
Response time: < 10 sec.
Operation temperature: -10ºC – 50ºC
Storage temperature: -20ºC – 60ºC
Relative humidity: of 20 a  90%
Atmospheric pressure: of 700 to 1300 hPa.
LCD Screen: Dot-matrix LCD Screen; 128 x 64 pixels.
Size: 65x120x27 mm
Weight: 160 gr (with batteries)
You may also like…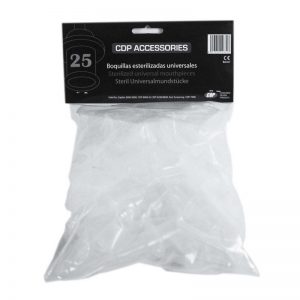 Add to cart
Qucik View
45,90

€

37,93

€

without vat
---