Description
Corentium Home battery-powered digital radon gas detector and monitor.
The Corentium Home Radon Gas Meter is an advanced portable equipment that will allow you to make accurate measurements and generate alerts when dangerous health-related thresholds are exceeded.
Corentium Home is a reliable, state-of-the-art digital radon detector recommended by thousands of professionals. Its simplicity, accuracy and reliability have made it the market-leading digital (battery-powered) radon detector. Ideal for homeowners who want to control their radon levels.
Radon is everywhere, although it said that it only affects people living in risk areas, marked on radon maps.
The latest WHO report sets the limit value above which prolonged exposure to radon can have a dangerous health effect at 100 Bq/m³. Therefore, it is important to make frequent measurements, especially in ground floors, basements and garages with little ventilation which is where we find a greater concentration.
What is radon gas?
Radon is a naturally occurring radioactive gas. It belongs to the radioactive decay chain of Uranium 238 present in soil. It is the only gaseous element in this chain and is formed from radium. It is an invisible, odorless and colorless gas. Through the process of radioactive decay, radon is converted into other chemical elements known as descendants and emits alpha-type ionizing radiation. Therefore, inhaling the gas is harmful to the cells of the airways. It can also cause tumors, especially lung tumors.
According to WHO estimates, in Spain around 2,000 cases of lung cancer can be directly attributed to the presence of radon gas in homes and workplaces. The only way to detect radon is by taking regular measurements with radon gas measuring equipment.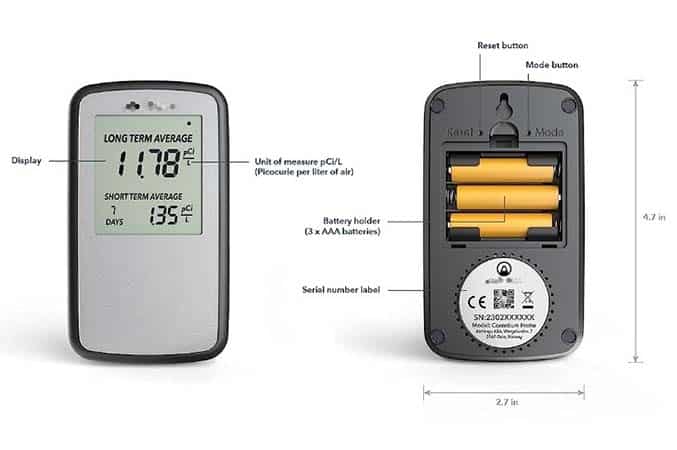 Product Features:
SHORT-TERM AVERAGE: Shows the short-term average measurement of the last 24 hours (updated hourly) or the last 7 days (updated daily). (Switches between the two every 6 seconds).
LOW BATTERY LEVEL INDICATOR: Change the batteries as soon as the icon appears.
LONG-TERM AVERAGE: shows the long-term average measurement of up to one year (updated once a day).
The measurement indicator will flash when the device is active.
USB input for the exclusive use of the manufacturer.
RESET BUTTON: can be used to start a new measurement period. Note: This deletes all stored data from the previous measurement.
MODE BUTTON: can be used to generate a report on airthings.com/report. Press once to get the total number of days measured and twice to get a code to receive your radon report.
Technical specifications:
Supply power: 3 AAA LR3 alkaline batteries. Up to 2 years battery life.
Product dimensions: 7in x 2.7in x 1in, 120mm x 69mm x 25.5mm.
Product weight: 2 ounces, 148 g (including batteries).
Operation and Environment: Temperature: 39°F to 104°F. Relative humidity: <85 %
Measurement – Color Gamut: Lowest detection limit: 0. Upper display limit: 500
Accuracy / Precision (after 30 days of continuous measurement): 

The typical σ for the average 7 days is:  ~ ± 10 % a 5.4 pCi/L
Typical σ after two months: ~ ± 5% a 5.4 pCi/L