Description
The CDPH2008 CO2 Detector is a multifunction device used to detect the concentration of carbon dioxide, temperature and humidity in the environment.
It has multiple applications. You can measure the environmental quality in hotels, department stores, offices, meeting rooms, libraries, train or bus stations, airports, pharmacies, living rooms, laboratories, schools, reading rooms, cinemas, hospitals, greenhouses, etc.
Designed to mount on the wall of public or private zones.
What is it for
If a person infected with COVID, or flu, spends hours talking, coughing, or even breathing in an enclosed enclosure, the environment will be filled with infectious aerosols.
The best solution is to ventilate the room!
You have to open the windows, but is it necessary to keep them continuously open? The more open, the better, but this is not a realistic option because the windows cannot remain open all day in winter. So how do we know if the ventilation is adequate?
One way to assess if you're ventilating well is by using CO₂ detectors.
People emit CO2 when breathing, so the cumulative amount of this gas indicates the level of ventilation in a room.
The Harvard guide (or the one just published by the CSIC) recommends, for COVID-19 prevention, not to exceed 700 ppm in a room.
The conclusion of the study is that it is essential to have a CO2 analyzer, to ensure sufficient and acceptable ventilation.
Recent studies show that, for example, in a classroom in a school that has not been well ventilated the level can exceed 2,000 – 4,000 ppm.
https://www.ciencia.gob.es/stfls/MICINN/Ministerio/FICHEROS/guia_para_ventilacion_en_aulas_csic.pdf
This scenario can also occur in a bar, restaurant, office, waiting room or in your own home.
Product features
High accuracy, high resolution and fast response
Powered by 220V to 9V adapter
Several groups of digital LED tubes, three colors and very large, for a correct display.
Clear and intuitive
The value of the carbon dioxide concentration alarm, for both the upper and lower limits, can be set by the user.
Alarm function. With light and sound at two levels. The concentration for the alarm can be preset.
High-quality, European-made carbon dioxide sensor.
The sensor features a linear output with a fast response speed.
Carbon dioxide concentration, temperature and humidity are displayed at the same time to detect air quality at all times.
Stable NDIR sensor for CO2 concentration
NDIR (Non-Dispersive Infrared) Wave Guidance Technology with ABC (Automatic Background Calibration)
 Panel and key descriptions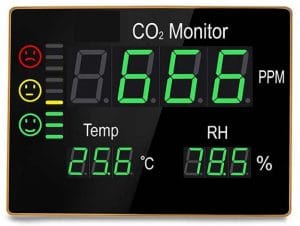 Red. Deficient: 200-9999 PPM
Yellow. Good: 600-1100 PPM
Green. Excellent: 0-500 PPM
| | | |
| --- | --- | --- |
| 1 | MODO | Sets the carbon dioxide concentration alarm value |
| 2 | | Increases the alarm value |
| 3 | | Decreases the alarm value |
| 4 | | Sound on or off |
| 5 | | Unit conversion |
| 6 | | DC power interface |
Technical parameters
Measurement range:

C02 Concentration: 0-9999PPM
Temperature: –10°C-100°C
Humidity: 0-99.9% of relative humidity

Measurement accuracy:      

CO2 concentration:     ± 7OPPM ± 3% reading
Temperature: ± 0.6°C (Max. ± 1.5°C)
Humidity: ± 3%

Resolution:   

Concentration de CO2: 1 PPM
Temperature: 0. 1 ° C
Humidity: 0. 1% of relative humidity

Repetition capacity: <= ± 0.5%
Response time: 10 seconds
Working condition: 0°C – 50°C, 0% – 90% no condensation
Storage condition: -30°C – -70°C, 0% – 90% no condensation
Power : AC 220V converted to DC 9V 2A
Maximum output: 9V * 350mA
Dimensions: 388 * 288 * 43 mm
Weight: 2420 g