Description
All in one for swimming pools. Chlorine and PH meter, Solar pool ionizer and Copper and silver anode
1.Chlorine and PH meter for swimming pools and spas. 2 in 1. CDPPHCL
This electronic chlorine and PH meter is a fundamental tool for the maintaining of swimming pools and any other water tank intended for human use. The meter allows you to accurately dose the concentration of Chlorine in pools and adjust the PH to the optimal levels for proper water maintenance.   This instrument is an ideal complement to optimize the use of the CDP Solar Ionizer. It will help you monitor the desired levels of Chlorine and PH.
Characteristics
The electronic chlorine and PH meter is a very accurate tool to keep your pool or spa in a safe PH range.  Avoid the use of chemicals or reagent strips, which are difficult to use and expensive, and save time and money.
Quickly check the PH, organic pollution and harmful substances in the water. The meter has a large easy-to-read display which shows the results of the test quickly and accurately.
It's intuitive and portable. You can quickly check if the Chlorine and PH are in the correct range. It does not contaminate or need consumables as it is self-cleansing.
Technical specifications
Material: plastic
Power supply: 1 x batteries AA of 1,5 V (not included)
Main Unit: 190mm * 20mm
Handle probe: 150mm
Probe (only): 48mm
Cable (only): 300mm
Item weight: 161g / 5.7 ounces
Package size: 240*145*30mm / 9,5*5,7 * 1.2in
Package weight: 221g / 7.8 ounces
What the package includes
1 Cl2 and PH Meter with probe
1 Instruction manual
1 Sandpaper to clean probes
2. Solar pool ionizer using silver and copper anode. CDPP02P
Our solar water purifier combines solar power generation through a process called ionization.
This process was first developed by NASA for use aboard the Apollo spacecraft, in order to purify the available water. By introducing atomic quantities of specific minerals into water, microorganisms such as algae and bacteria cannot survive. While these ions, or atoms, are completely safe and non-toxic to you, microscopic life forms cannot develop in these cases. Unlike chlorine, which loses power after only a few hours, mineral ions produced by the solar ionizer remain effective for weeks demonstrating its purifying effect in a few days.
How the Solar Pool Ionizer works
While the solar purifier is floating in the water, the solar panel converts sunlight into electricity. This low-voltage electric current, which is completely harmless, powers a Silver and Copper mineral alloy electrode below the waterline. This causes the release of mineral ions into the surrounding water that easily expand throughout the pool. Once the water has reached an optimal level of ionization, it will efficiently prevent the growth of microorganisms without the need to use chemical agents. Some contaminants in your pool, such as dust, tanning lotion, body fluids, etc., are not affected by minerals. An accumulation of these substances tends to cloud the water and therefore requires a minimal amount of chlorine to dissolve them and keep the water crystal clear. It can reduce the level of chlorine by up to 90% with respect to the usual amount used, also providing significant economic savings in maintenance costs.
Benefits
You can reduce chlorine consumption by 80-95% and in algicides by 100%.
Elimination of aggressive chemical agents in skin, eyes, hair, etc.
Eliminates harmful minerals such as calcium and iron by anode capture.
It will reduce electricity consumption by filtration hours from 40 to 70%, especially regarding saline strainers that require a long generation process.
The PH level will remain stable at optimal levels without variations like those produced by saline chlorinators or chemical pills.
Eliminating calcium and iron in water.
If you use a saline chlorinator you will not have to handle heavy sacks of salt that also deteriorate 100% of the metal components of your pool machinery.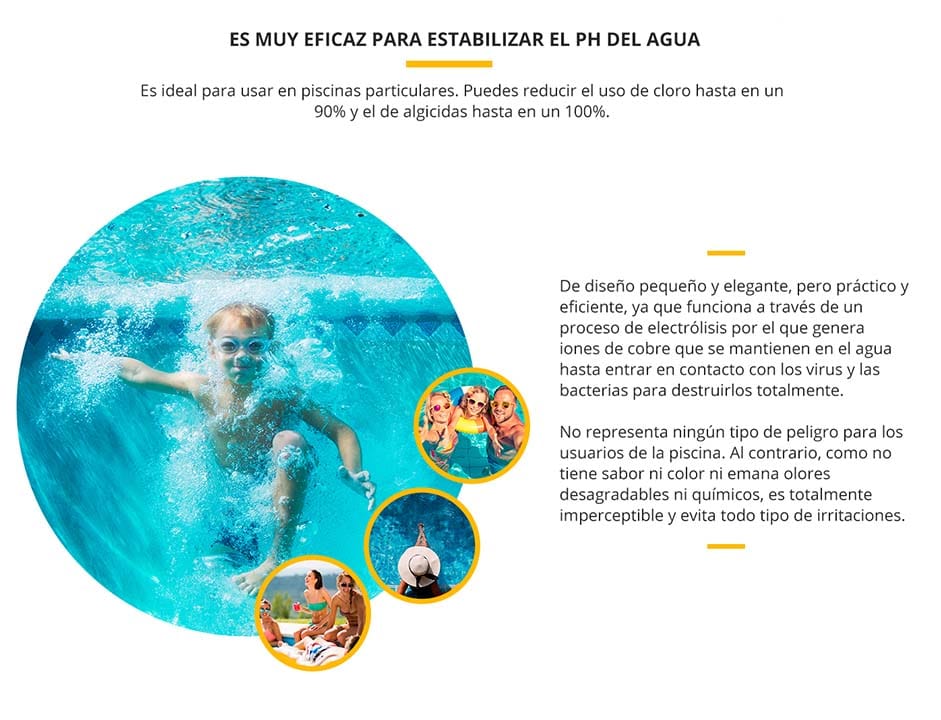 Safe, effective and economical
The CDP SOLAR POOL IONIZER is completely safe and non-toxic, there is no risk of electric shock. Swimming with the unit in the water is perfectly safe, and the unit will remove irritations, odors and bleaching associated with chlorine. Water ionized with the CDP solar water purifier is subject to the established standards for drinking water by the EPA (Environmental Protection Agency), thus avoiding highly toxic chemical levels. In addition, water remains clean and stable for long periods of time because the minerals, unlike other chemicals, do not evaporate.
Unlike chlorine, hot summer conditions do not degrade Ion. On the contrary, the hotter it is, the better it works. Our CDP POOL IONIZER is extremely economical in the way it operates and works. The only part that requires replacement is the mineral electrode, which will last approximately 1 to 2 years and its replacement is very simple and cost effective.
The solar ionizer will allow you to reduce chlorine consumption by up to 90%. You'll also enjoy swimming in natural chemical-free water.
The CDP-Solar water purifier is the only purifier that, in addition to generating beneficial mineral ions, collects undesirable minerals such as calcium and iron. This has the effect of softening the water making it healthier. The mineral electrode is designed to erode slowly, and in the process will form an accumulation of inlays that will require occasional cleaning (every 15 days on average). Each device has this size to cover up to 150m3 of water (32,000 Gallons). View test report data: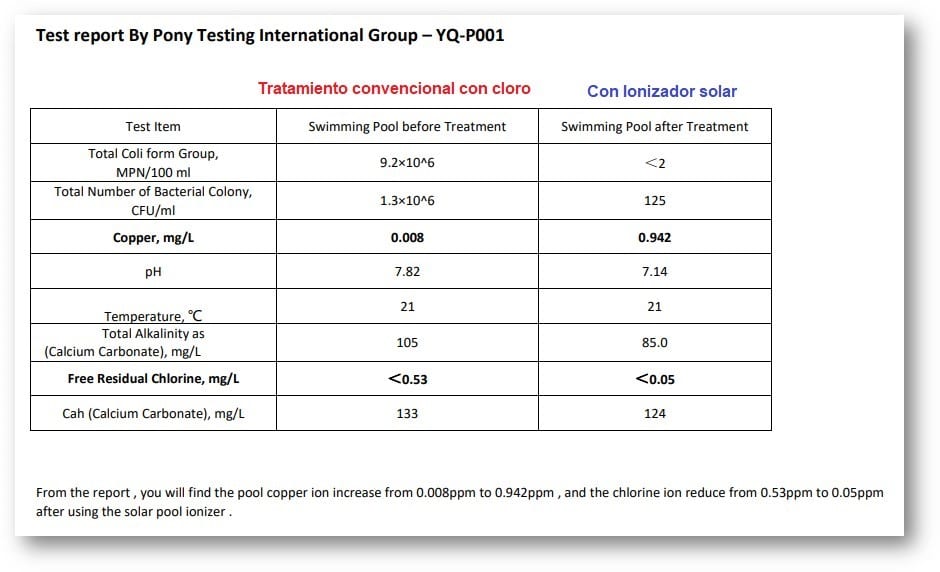 Use process
Step 1. Make sure the pool conditions are optimal
Step 2. Introduce the solar pool ionizer
Step 3. Make sure the solar ionizer is floating in the pool and is exposed at least 4 hours to direct sunlight
Step 4. After 12 hours, activate the pool filtration system. After 24 hours, check if everything works according to specifications
Steps 5-6. Remove every 15 days and clean the electrode with the included brush. Check the copper level weekly. If the 0.9 ppm level is exceeded, remove it from the pool and put it back in the pool when it again reaches a value of less than 0.4 ppm.
When the pool has been used, it is necessary to maintain the ionizer in the water permanently during both day and night. You should and monitor the copper levels in the water weekly with the tests provided.
Technical details
Type of monocrystalline solar panel coated with tempered glass with diameter of 200mm
Panel power: 2.00 Watts
Electrode: Silver and copper alloy anode weighing 0.24kg
Premium stainless steel coil spring
External PE case with UV resistance
Coil material: stainless steel permanent fastening
Capacity: 150 m3 of water (32,000 gallons) under optimal solar conditions of at least 4-6 hours per day
Optimal operating range/ copper density: 0.5 – 0.9 PPM
The anode can last from 2 to 4 summer seasons or a full year under normal conditions of use
Warranty: 2 years against manufacturing defects
Kit components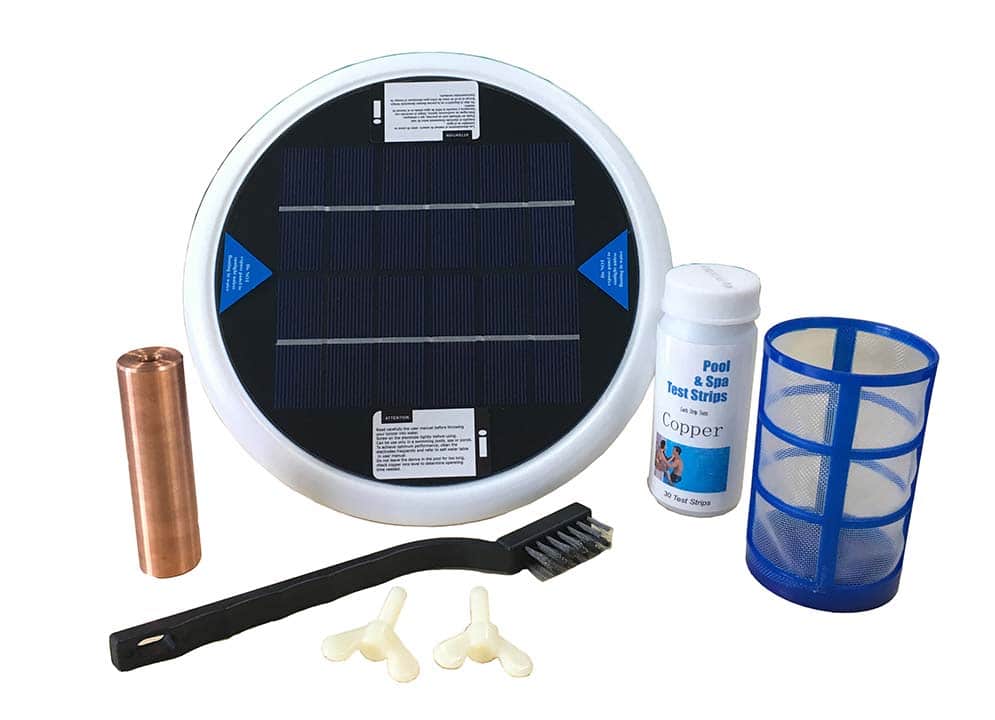 1 Base with solar panel
1 Silver and copper electrode
1 Stainless steel metal spring (attached to the equipment)
1 Nylon filter basket
1 Fastening bolt
1 metal fiber brush
1 user manual
30 copper test strips in packaging
3. Copper and silver anode for solar ionizer CDPP02P
Anode made of high-quality materials containing an alloy of copper and silver. Its approximate weight is 240 gr.
This long-lasting spare part, 1 or 2 seasons depending on the conditions of use, can be easily replaced when the standard anode is exhausted. Replacing it is very simple.  Simply remove the worn anode and screw the new one to the equipment.
Pool ionizers and ionization systems, in general, operate under the principle that silver is a bactericide and copper an algicide. Copper and silver electrodes add traces of these elements to the pool, through electrolysis, applying a low and safe voltage.
Based on an article from the World Health Organization (read below), the ionization of silver and copper provides a high level of protection in water, decreasing the need to apply high concentrations of chlorine or other oxidants.
SOURCE: World Health Organization article
https://www.who.int/water_sanitation_health/dwq/chemicals/Silver_water_disinfection_toxicity_2014V2.pdf
ADVANTAGES OFCOPPER AND SILVER IONIZERS
Silver can kill bacteria, as explained in the WHO In fact, it has been used as a method of water purification for centuries.
Copper is an algaecide widely used in the pool industry and very effective in controlling the growth of algae in the water. Maintaining copper levels between 0.2 and 0.4 prevents the formation of algae.
The copper and silver in the pool water do not produce a taste or scent that is detectable by people. Ionizers work with very few maintenance requirements, only cleaning and replacing electrodes
The combined use of the ionizer with low chlorine levels (0.5 ppm – 0.8 ppm) is the most efficient and least aggressive method for the disinfecting and maintaining swimming pools. Simply, it requires the periodic monitoring of copper levels, to avoid stains if copper densities above 0.9pp are reached. The ionization of silver and copper is the ideal solution if you want a pool water purification and filtration system with the least amount of chemical disinfectant oxidant.
The use of ionizers with saline chlorinators are also an optimal combination. The salt system provides chlorine, tending to raise the PH of the pool. Silver and copper are very effective at disinfecting at high PH levels, unlike chlorine which loses its effectiveness.
NUMEROUS BENEFITS
Reduces the use of chlorine and other disinfectant chemicals from 80% to 95%.
A single solar ionizer serves pools with a volume of up to 150 m3 or 32,000 gallons.
100% powered by solar energy, which provides savings in energy costs. In addition, it is low current and completely safe for users.
Easy installation and minimal maintenance.
Copper and silver mineral ions are 100% natural, healthy for our body and the environment.
Eliminates, by anode capture, harmful minerals such as calcium and iron.
The pH level will remain stable, at optimal levels and unchanged